55printing.com Enters New Year Offering Complimentary File Checkup and Design Edits of EDDM Postcard Printing
With 55printing, Business owners and entrepreneurs now have access to take their marketing and communication needs to the next level.
Press Release
-
Jan 5, 2015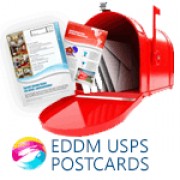 January 5, 2015 (Newswire.com) - 55printing.com, a recognized printing and design leader, is offering a free, professional review and expert editing of U.S. Postal Service Every Door Direct Mail (EDDM) postcard printing upon checkout.
"Every business is unique, and 55printing.com understands that," said Julian Alberti of 55prining.com. "Providing our customer with quality products that add value and help them stand out from the competition is a priority. This new service will ensure every 55printing.com customer's EDDM product engages their audience and meets postal service requirements."
EDDM allows businesses to target their marketing to reach an entire area or neighborhood through the U.S. Postal Service. 55printing.com's new service will ensure that all collateral is 100 percent EDDM compatible and meets all U.S. Postal Service requirements within the continental United States. The company, which is committed to helping businesses strategically expand their customer base and successfully engage target audiences, will make the EDDM process simple and easy for customers.
"In addition to simplifying the EDDM process and helping you reach the right audience, which translates into brand recognition and revenue dollars for your business, we're making sure you have access to a marketing and communications professional who will review your file and give you design suggestions to help you better engage your audience," said Alberti. "And it's free."
55printing.com's free file checkup and free design edits are being offered onsite to help avoid errors by customers, providing accurate copy in a timely manner upon checkout. And because 55printing.com understands the postal service EDDM requirements, they simplify the process to ensure that each individual and business gets the full benefit of using EDDM postcards to reach customers. 
Individuals and businesses interested in taking advantage of this offer should visit www.55printing.net or call 55printing.com at (866) 200-2317.
About 55printing.com
55printing.com, founded in 1999 under the name of Advantage-Studios, is an essential printing and marketing partner for local USA businesses. The company provides fast, reliable and high-quality design and printing products to companies and individuals across the globe.  As a one-stop shop for all your printing and design needs, 55printing.com offers digital and offset print services, including flyers, business cards, brochures, banners and leaflets, and innovative design services to help customers transfer their vision into reality.
55printing.com's design department is located in Miami Beach, Fla. and the company's state-of-the-art printing facilities are located in California, New York, Ohio, Texas and Rhode Island.
Share:
---
Categories: Marketing
Tags: 55printing, EDDM, Every Door Direct Mail, Postcards, Printing
---