ZOONOVA®, a Powerful Cross-Asset Financial Portfolio Analytics Web App, Integrates Quoting and Trading Data From IEX
Press Release
-
updated: Jun 12, 2017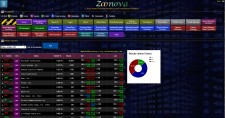 Salt Lake City, Utah, June 12, 2017 (Newswire.com) - ZOONOVA® the only cross-asset financial portfolio and analytics web app that can be run on any device, in the cloud or private network, now provides near real-time stock market data from IEX to its users. Not only disruptive, ZOONOVA® is also affordable, with a Platinum subscription just $240/year.
ZOONOVA® offers cutting-edge cross-asset portfolio and security pricing analytics for Stocks, Options, Bonds, FRN, Interest Rate Swaps, Credit Default Swaps, Alternative Investments and more. Now with the market data feed provided by the IEX API — which includes bids and asks quoted on IEX's order book, as well as data for trades on IEX — users have access to the data they need to calculate Portfolio Optimization, Efficient Frontier, CAPM Expected Return, Alpha, Beta, Delta, Sharpe Ratio, P&L, What-If Scenarios, and more in near real time.
"The integration of near real-time IEX data is a truly disruptive innovation, said Blaise F. Labriola, Managing Partner at Zoonova.com. "Other exchanges will eventually have to offer their market data for free if they want to compete. 
"The case of Netflix vs. Blockbuster would be a good comparison: When a disruptive strategy (Netflix) competes against a deliberate strategy (Blockbuster), the disruptor usually wins."
As America's newest stock exchange, IEX trades U.S. equity securities, including exchange-traded funds (ETFs). The IEX API provides IEX quoting and trading data for mobile, desktop, and trading applications for free.
"We're excited to see new platforms and applications integrating free IEX data," said Josh Blackburn Head of User Experience at IEX. "With the power to reach a wide group of investors and traders, Zoonova's offering broadens our efforts to expand access to data and further level the playing field."
ZOONOVA® runs on any device, uses modular architecture, and is very mobile friendly. There is nothing to download; simple go to the website and immediately use the web app.
ZOONOVA® can also be run across an Intranet for Institutional users wanting to host the web application in a private network.
Contact: Blaise F. Labriola, Managing Director, (801) 856-8383, bflabriola@altairallc.com
Source: Zoonova.com
---
Categories: Business Technology, Finance, Asset Management, Investments, Risk Management, Stocks, Business Finance, Financial Securities, Derivatives, Banking, Finance, Insurance, Financial News
Tags: asset management, banking, cross asset portfolio analytics, derivatives, finance, financial news, financial securities, fintech, investment, risk management, stock market, stock trading
---