Zonli Announces Product Launch of Summer Bamboo Cooling Comforter
Press Release
•
Feb 20, 2023
The best bamboo cooling comforter for hot sleepers & night sweats.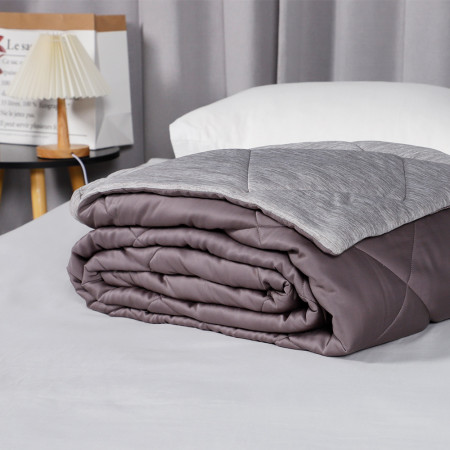 LOS ANGELES, February 20, 2023 (Newswire.com) - Zonli, a Hong Kong-based online retailer that sells home supplies, has announced the product launch of its Summer Bamboo Cooling Comforter. This seasonal comforter is an excellent purchase for customers seeking a bed comforter that will keep them cool during the warm summer months. Using a perfect combination of nature and technology, the Bamboo Cooling Comforter is the coolest cooling comforter in the world, with a Qmax of 0.42. The material of this comforter is 100% natural, made with bamboo viscose and cooling fiber technology. This product has gone viral on social media platforms like TikTok due to its innovative cooling technology, making it unlike any other Summer Cooling Comforter available on the market.
"Zonli's newly released Bamboo Cooling Comforter is a must-have, as it can be used all throughout the year, giving customers a luxurious and comfortable sleep experience. The comforter's naturally breathable bamboo viscose and fiber fill allow users to regulate body temperature and stimulate melatonin release for a more restful night of sleep," said David Smith, Zonli Product Manager. "With this product, people can achieve the ultimate coolness during warm summer months, and thanks to our two-sided design, the comforter can be used to stay cozy in the cooler months, as well."
Years of iteration and highly specialized knitting technology have helped Zonli perfect the science and create a mind-blowing fabric for this newly released product. Zonli works directly with sleep experts to create high-quality products that work, and because of this, the Bamboo Cooling Comforter has been specially developed to be breathable and cooling, giving users a comfortable night of sleep. The cooling fabric of this Bamboo Comforter can easily regulate a person's body temperature, allowing them to stay comfortable and cool even when the weather is hot during summer. Lastly, 100% natural bamboo viscose had superior antibacterial qualities over other fabrics and cotton.
Zonli's Bamboo Cooling Comforter is also machine washable. Now available for purchase, customers have the option to buy three different sizes of the Bamboo Cooling Comforter: 60" by 80" for $159 USD, 90" by 90" for $169 USD, or 90" by 108" for $179 USD. The new product is available in three colors: Charcoal, Camel, and Navy. Customers have a 21-day trial for testing the product, as Zonli offers free returns for the first 21 days after purchase.
To purchase the newly released Bamboo Cooling Comforter by Zonli, go to https://zonlihome.com/products/bamboo-cooling-comforter.
About Zonli
Zonli was founded in 2016, dedicated to designing and manufacturing the best bedding including weighted blankets, heated blankets, cooling blankets, and floor mattresses that provide the highest quality sleep. We thoughtfully select each fabric, color, and texture and pay close attention to the entire process, from the art and science of product design to local and ethical manufacturing.
Source: Zonli