ZipApply Helps Job Seekers Be Proactive, Network and Get Noticed by Employers
Most job seekers rarely hear back from employers after applying. Zipapply helps you contact hiring managers directly and get notice
Press Release
-
updated: Oct 10, 2017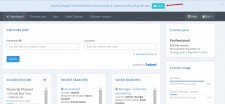 ATLANTA, October 10, 2017 (Newswire.com) - ZipApply.com is a new company that is looking to change the way people apply to jobs and offers a creative way out of the stalemate that many job candidates are finding themselves in. The company has recently unveiled a piece of software that may soon be an integral tool for any and all potential job-seekers. The software is able to find contact information for specific hiring managers, which lets applicants reach out directly and network with them.
The unfortunate reality of today's job market is that the application process has become not only a chore but a seemingly worthless endeavor. The days of walking into a building with resumé in hand are gone, and online applications have quickly become the norm.
As the process has become streamlined in the corporate world, automated systems are now used to scan potential recruits, weeding out many due to only a few lines of text in their resumé. Robert Meier, President of Job Market Experts, claims that "98 percent of job seekers are eliminated at the initial resumé screening."
Adding to the issue, many of these automated systems fail to notify rejected applicants. ZipApply recently conducted a survey where they found that 54 percent of job applicants rarely, if ever hear back from employers after applying on their career websites. Not only does this leave applicants in the lurch, but it certainly adds to the frustration of the entire job-hunting process.
In response to this, most candidates find their time is better-spent networking, as opposed to filling out applications. According to a report from ABC News, 80 percent of today's jobs are landed through networking. The reason for this is that having a solid connection within a company can allow someone to completely bypass those automated systems that are built to reject resumé after resumé.
ZipApply is providing job-seekers an opportunity to bypass these systems in a slightly different way. After conducting extensive research on the trends within the U.S. job market, they have come up with a program that can take a lot of the leg-work out of the networking process.
By pulling information from a variety of online sources, ZipApply can find the exact people that are in charge of hiring — and they can do it in just about any location, for any company in the world. This service doesn't stop at just names, though — users can access email addresses and other contact info.
Applicants can then use this information to reach out directly to network with hiring managers, drastically increasing their chances of being seen. Simply getting a resumé in front of a human being gives any applicant a huge step up over the competition.
To be clear, this is not a new idea. In fact, this process has been going on for years—especially with the creation of LinkedIn. Many applicants also turn to Data.com to purchase company profiles with the hopes of making a personal application. ZipApply's software has simply taken all of these best practices and combined them into one easy to use package.
All of this information does come at a cost — the subscription starts at $10 per month, with an upgraded, professional version that costs $50 per month. These two levels allow users to find and save different numbers of contacts per month. The starter version should, in theory, be enough for most job-seekers—100 email findings per month and the ability to save up to 1,000 contacts. The professional version offers 2,500 email findings per month and up to 5,000 saved contacts.
Job-seekers will be happy to know that there is a 7-day free trial, which provides five email findings and the ability to save up to 50 contacts. In this day and age, five direct connections is a pretty valuable resource.
Traditional methods of finding a job are not as effective as they once were. Jobseekers need to be proactive in their search and ZipApply helps people do that. 
To learn more about ZipApply and their powerful free chrome extension, check out www.zipapply.com. 
Source: ZipApply.com
Share:
---
Categories: General Interest, Colleges and Universities, Human Resources
Tags: how to get a job, job seeker productivity tool, job tools for millenials, Networking tool
---