Zindigi, Powered by JS Bank, Becomes One of the Top 5 Most Downloaded Apps of the Country
Press Release
•
Feb 9, 2023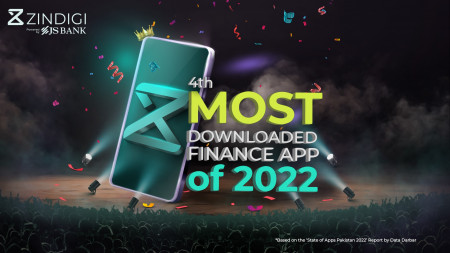 ISLAMABAD, February 9, 2023 (Newswire.com) - Zindigi, powered by JS Bank, has efficaciously taken a prominent position as one of Pakistan's five topmost downloaded apps in the financial category as per the "State of Apps Pakistan 2022" Research Insights report by Data Darbar. Pakistanis downloaded 3.52B apps in the last year, 35.4 percent more than the preceding year, making the country the fastest-growing app market amongst regional peers.
Zindigi, is a cutting-edge digital banking service that has the objective of making life "simple" for its users. Meeting the needs of the country's burgeoning youth bulge, it is the first digital banking player to dedicatedly serve the unmet needs of Gen Z and Millennials by providing unique financial experiences.
Launched only a year ago, Zindigi has successfully established itself as a pioneer in the market by providing first-of-their-kind real financial use cases, such as investments in mutual funds and in-app stock trading, along with everyday payment features. The financial app introduced Pakistan's first customizable digital experience, due to which millions of customers joined Zindigi and appreciated its unparalleled digital experience.
In a short period of time, Zindigi has been able to revolutionize the wealth management category (Mutual funds & Stock trading) in Pakistan by increasing a largely stagnant market by 4% increase in just one year.
Noman Azhar, Chief Officer, Zindigi, said, "We are thrilled to have achieved such massive success in such a short span of time. We are humbled to have been a trendsetter in the market and look forward to continually innovating and providing our customers with the best financial solutions".
---End---
About Zindigi
Zindigi powered by JS Bank is a digital banking initiative targeted towards Gen Z and millennials, who value their independence and want to control and operate things their way. Zindigi is the first-of-its-kind customizable mobile app with an ethos of giving complete control of the digital bank to customers and the look & feel of their app. It offers Gen Z and millennials savings and investment products. The fintech goes by with the slogan "Simple Karo" reflecting their objective of making the consumers' lives simple. It is the only digital banking experience of Pakistan offering both a full fledge account to be opened digitally and a master debit card that can be used both internationally and locally. For more details, visit www.zindigi.pk.
About JS Bank
JS Bank is amongst the fastest-growing Banks in Pakistan, with both a domestic and an international presence. The Bank is a leader in the SME space and has a substantial footprint in Digital Banking and Consumer Loans. JS Bank has been recognized on multiple international and national forums, including the prestigious Asia Money, Asian Banking, Finance, DIGI, and Pakistan Banking Awards. JS Bank is part of JS Group, one of Pakistan's most diversified and progressive financial services groups.
Name: Wahaj Hashmi
Email: Wahaj@zindigi.pk
Source: Zindigi