Zhiyun Tech's Weebill LAB is the Best Mirrorless Camera Gimbal of 2018
Tiny and Mighty Gimbal for Both Professional Filmmakers and Personal Video Creators
Press Release
-
updated: Dec 24, 2018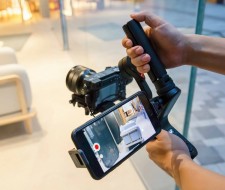 SHENZHEN, China, December 24, 2018 (Newswire.com) - Weebill LAB of Zhiyun Tech is a product of hundreds of hours of research and design, countless prototypes and lots of patience. What makes this gimbal worth every penny is its tiny and mighty features. Weebill LAB is an all-new professional gimbal with many premium features, which gives customers an unprecedented experience as a professional filmmaker.
Versatile Structure
Standing out with its lightweight body, Weebill LAB boasts an extremely versatile structure, which is an innovative feature compared to other gimbals in its class. Users can either hold it upright or enter a handy underslung position by mounting the tripod as a handgrip. The way it is used depends on the angle users want to shoot. What's more, Weebill LAB enjoys a 50 percent noise reduction, 80 percent motor torque increase as well as 100 percent response speed acceleration.
Crafted Latch Design
Carefully crafted with latch design, Weebill LAB is ultra-portable and effort-saving. The latches on each axis make balance adjustment of Weebill LAB a piece of cake and enable users to start instant shooting anywhere, anytime.
ViaTouch Control System
ViaTouch Control System allows mobile devices around the user to be used as a monitor via its wireless image transmission module. More than just saving money on an external monitor, ViaTouch Control System enables users to simply have full control over every detail of the frame on the screen of mobile devices. ZY Play app allows users to adjust and control the gimbal as well as parameter settings of the camera (conditions may vary in practical realization). In a word, ViaTouch Control System supports easy framing and adjustment when shooting from different angles and will raise performance to the next level.
Weebill LAB gimbal has many other impressive features as well. For example, when pressing the POV button twice, Weebill LAB will activate vortex mode: press the V button on the gimbal to enable the pan axis to rotate around through 360 degrees while the roll axis is locked. Wireless Image Transmission supports real-time monitoring with smartphones, tablets and most digital devices. With these functions and structure, users can shoot in extreme angles and achieve cinematic effects at ease.
About Zhiyun
Zhiyun, one of the world's leading tech companies of professional stabilization system, offers a comprehensive set of innovative solutions and devices to worldwide customers. Zhiyun inherits the former product's full-developed experience and the meticulous and precise tradition, providing new outlooks and new perspectives for both professional filmmakers and personal video creators to record life easily.
Media Contact
Company Name: Guilin Zhishen Information Technology Co. Ltd.
Address: Room 3606, Tower A, Kingkey Timemark, #9289 Binhe Road, Futian District, Shenzhen, China
Email: infosz@zhiyun-tech.com
Website: https://www.zhiyun-tech.com
Source: Zhiyun Tech
Share:
---
Categories: Photography
Tags: action camera gimbal, camera stabilizer gimbal, cell phone gimbal, handheld gimbal, phone stabilizer
---