ZenHub Adds Reporting Suite to Unlock New Insights From GitHub
Press Release
•
updated: Mar 6, 2019
ZenHub's Reporting Suite, leveraged by software developers, project managers, and product owners, offers unmatched visibility into managing scope, speed of delivery, predictability of releases, and where bottlenecks persist.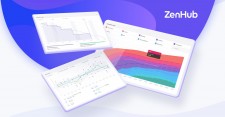 VANCOUVER, British Columbia, March 5, 2019 (Newswire.com) - ​​​ZenHub, the most popular project management tool among teams using GitHub, today unveils a new reporting suite aimed at enterprise software teams looking to optimize their development lifecycle. Software teams everywhere, regardless of industry, are under constant pressure to deliver better software faster. This drive for continual improvement across the software development lifecycle requires developers, project managers, product owners, and technology executives to better understand their software development process inside and out. To illuminate the inner workings of a team's development process, ZenHub has created a reporting suite that includes Release Reports, Velocity Charts, Burndown Charts, Cumulative Flow Diagrams, and now Control Point Charting.
To learn more about reporting in ZenHub, visit: www.zenhub.com/reporting
With ZenHub's reporting suite, software teams finally have the data-driven insights they need to improve their agile development process. Release reports allow teams to manage scope changes across long-term projects or milestones. Velocity charts display a team's historical speed of work, showing exactly how much value a team can ship each sprint. Burndown charts display an overview of complete and incomplete work so teams are always up-to-date on whether they are on track to deliver. The recently released Cumulative Flow Diagram and the Control Point Chart, designed specifically for Kanban teams, provide critical insights into how workflows perform over time to highlight bottlenecks that need attention.
"ZenHub's Reporting Suite provides our team with the visibility we need to ship entire features at an accelerated rate. From stand ups to sprint planning sessions, ZenHub plays a critical role in our success as project managers," said Jessica Jennings, Program Manager at Adobe / Behance.
ZenHub reporting, when paired with GitHub, gives agile software teams new data-driven project management insights. These insights drive a faster time-to-value, provide greater visibility into the work being done, and allows for easy identification of bottlenecks in a team's workflow. This allows teams to identify easy to miss trouble spots in a software development process, make meaningful changes towards continual improvement, and track the business impact of those changes.
Getting started: Any team can start using ZenHub to add a whole new level of insights into GitHub: www.zenhub.com/reporting
About ZenHub
ZenHub helps development teams build better software faster. Over 150,000 developers, product owners, and project managers in organizations ranging from disruptive startups to global enterprises have leveraged ZenHub to improve their Software Development Lifecycle and deliver value to their customers. For more information, visit http://www.zenhub.com.
Media Contact:
Dan LaBelle
Phone: 604.505.1743
Email: dan.labelle@zenhub.com
Source: ZenHub
Related Media
Tags
Additional Links