Zapia, the First Personal AI Assistant for Latin Americans, Raised $5M in Silicon Valley
Press Release
•
updated: Aug 22, 2023
BrainLogic AI, a tech company founded by renowned AI experts from Uruguay, has announced a historic $5 million investment round to develop Zapia, the first AI assistant specifically designed for Latin America. This might be the largest AI investment round in Latin America.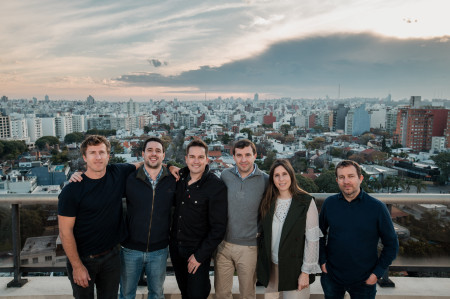 MONTEVIDEO, Uruguay, August 22, 2023 (Newswire.com) - Founded by renowned Latam entrepreneurs and researchers, Zapia is a personal AI assistant in WhatsApp, hyper-localized for Latin America.
The service is already available for a limited number of people for free at zapia.com and will subsequently be available via a wait list. Zapia empowers users to swiftly find updated information about their city, find prices for local products and services, stay informed with daily news, and even transcribe audio messages. In the future, Zapia will empower Latin Americans to navigate life effortlessly, seamlessly enabling them to accomplish real-world tasks such as purchasing products and services, making reservations, and more, with utmost efficiency.
With the aim of providing all Latin Americans with the best personal AI assistant and a capital round led by Factory HQ, a Silicon Valley VC founded by Stanford AI experts, the interest in the company exceeded expectations and the round was oversubscribed.
BrainLogic AI gathered support from a top-tier team of investors and advisors. "The opportunity they are pursuing is very clear, and this was the best team to seize it in Latin America. They've assembled an exceptional group of investors and advisors, that includes some of the best-known angel investors from Silicon Valley," declared Diego Oppenheimer, Partner at Factory HQ and a fellow Uruguayan AI entrepreneur based in Seattle.
For Juan Pereira, COO of BrainLogic AI, the launch carries a social mission. "We are committed to using AI to generate positive impact in Latam. We believe in a future in which we will all have an amazing AI assistant that helps us save time, save money, and live better."
Latin America at the forefront of AI
Zapia is a powerful AI assistant, built by Latin Americans for Latin Americans. "For the first time, computers can talk the language of people and businesses. It's a historic shift that can leapfrog Latin America directly to the conversational era," commented Martín Alcalá Rubí, CEO of the company and pioneering AI entrepreneur from Latin America with over 14 years of experience in the field.
In the same line, Alcalá Rubí added, "2022 was a pivotal year in terms of massive AI adoption by consumers. By 2025, having a personal AI assistant will be as common as owning a smartphone. Our mission is to create the world's best personal AI for Latin Americans and use it to improve people's quality of life."
Entrepreneurs behind Zapia:
Martín Alcalá Rubí co-founded startups like Tryolabs, UltraDrop, and MonkeyLearn (acquired by Medallia, US in 2021).
Juan Pablo Pereira is co-founder and former CEO of Tiendamia, the leading cross-border eCommerce in Latin America.
Nicolás Loeff (PhD) is one of the most prominent Uruguayans in Silicon Valley. He has lived in the United States for 20 years and has led AI teams at Google and Etsy.
Juan Olloniego, Engineer with a Master's in AI who worked with Andrew Ng.
Pablo Rodriguez-Bocca, PhD in Computer Science, researcher, and university professor.
About Zapia:
To try Zapia, visit Zapia.com.
press@zapia.com
Source: BrainLogic AI
Related Files