You've Got Pictures Appoints Fomo Founder Ryan Kulp as CTO
Press Release
•
updated: Dec 10, 2020
Creative group You've Got Pictures (CEO Jeong-Hyun Geum), a leading digital advertisement production company in Korea, has appointed Ryan Kulp, founder of Fomo.com in the USA, as its first Chief Technology Officer.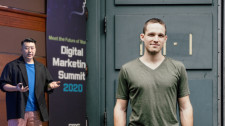 SEOUL, South Korea, December 10, 2020 (Newswire.com) - CTO Ryan Kulp, from Atlanta, Georgia, is the founder and co-chair of Fomo, an American e-commerce customer data analytics company, and a leader in SaaS (Software as a Service) growth marketing.
An official from YGP said, "This joining of CTO Ryan Kulp in Korea has a new meaning in the Korean content production market. The problem in Korea is that there are many clients who only produce content but are unable to properly distribute it, thus exhausting their budget. The ability to research and analyze e-commerce customer data with advanced technology is now critical. Communicating directly to carefully defined target audiences is the only way to create value for modern businesses online."
Collaboration with Pen Paper & Plot, a subsidiary of You've Got Pictures, will also be strengthened. Led by Lee Ha-Seok Lee, a digital growth hacking expert, PPP is currently expanding its unrivaled email marketing and growth hacking capabilities in Korea. Recently it was recognized by Zapier as the first global web integration service in Korea. Thanks to the addition of Ryan Kulp, YGP and PPP will soon develop SaaS that has not yet been available to the Korean audience.
About YGP
You've Got Pictures is a first-generation, domestic, digital advertisement production company that creates advertisements and content for leading domestic and foreign clients. On May 13, 2020, it made an agreement with Google's Asia-Pacific arm. YGP has also signed a partnership agreement with YTCD (YouTube Creative Directory).
Source: You've Got Pictures
Additional Links