Youth and Dignitaries Welcome Human Rights World Tour to India
Press Release
•
updated: Apr 21, 2018
15th annual Youth for Human Rights World Tour hosts the 6th annual South Asia Summit in New Delhi.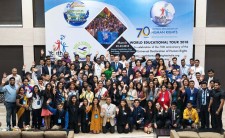 NEW DELHI, India, April 21, 2018 (Newswire.com) - Youth delegates from Afghanistan and Nepal and across India gathered at the Constitution Club in Connaught Place, New Delhi, for a two-day regional summit and to welcome Youth for Human Rights International President Dr. Mary Shuttleworth on the South Asia leg of her 2018 Human Rights World Tour.
They were joined by government officials, embassy staff, President Youth for Human Rights South Asia Mr. Andrew Chalmers; President Youth for Human Rights India Dr. Arjumand Zaidi; actor and Youth for Human Rights South Asia Ambassador Ms. Sheena Chohan; and other distinguished guests.
The Youth Summit is the opportunity for ardent young human rights activists to extend the reach and impact of their programs by meeting and briefing officials and NGOs on their activities, network and coordinate with and learning from the work of other YHR chapters and set goals and plans for the coming year. Delegates from the South Asia Summit also made plans to attend this year's International Human Rights Summit at the United Nations in New York.
Dr. Shuttleworth and Sheena Chohan presented awards were presented for outstanding achievements.
Some of the topics taken up in presentations were youth empowerment, sustainable development, equality for those disenfranchised by caste and gender discrimination, and the role of human rights education in bringing about reform in these and other human rights issues.
The South Asia Summit was sponsored by Holy Vision International and St. Xavier Convent School and Integral University of Lucknow, India; Youth for Human Rights South Asia and the Church of Scientology.
The Church of Scientology and Scientologists support United for Human Rights, and its program for young people, Youth for Human Rights, the world's largest nongovernmental human rights education campaign, reaching out in 195 countries in 27 languages and embraced by 2,300 activists, officials, groups and organizations. Their support of the initiative is inspired by Scientology Founder L. Ron Hubbard's conviction that "It is vital that all thinking men urge upon their governments sweeping reforms in the field of human rights."
For more information, visit the Youth for Human Rights website.
Source: ScientologyNews.org
Related Media