Young General Ian Green moves to 4-0
Press Release
•
May 5, 2015
Young General Ian Green scored an impressive unanimous decision in his forth professional fight at the Paramount Theater. His opponent Marlon Farr's strategy was clear from the opening bell. Farr kept his distance from the Young General's devastating punching power and he tied Green up at each and every opportunity. Green showed great poise and composure for such a young fighter.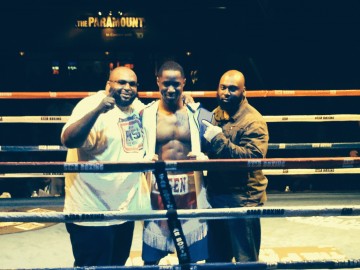 New York, May 5, 2015 (Newswire.com) - With what is being called the fight of the century taking place on May 2 a future star of the sport is working and training tirelessly in anonymity. The boxing world will soon know the name Ian Green. His drive, determination, and focus is razor sharp and his boxing skills while tremendous, are improving every day. Sit down and talk with this phenom and you will soon learn he works hard to improve all aspects of his life. Green is currently a college student pursuing a business degree, a Toastmasters International club member, and he is a volunteer and community leader in his hometown of Paterson, NJ. Green is determined to be a champion in and out of the boxing ring.
Green's trainer Dwyke Flemmings said it was a good learning experience for his fighter. "Ian had to adjust his plan of attack during the fight and get better at avoiding tie ups." Chris Oliveras, General Partner of Green's Management team, Kran Sports and Entertainment Management, stated Green will fight again in May and continue his quest to become the middleweight champion. "Ian was obviously in great condition and showed no signs of tiring after going the distance for the first time in his career. He is ready to fight again now."

Chris Oliveras, General Partner
Learn more about Ian Green at www.iangreen93.com and follow him on twitter @iangreen93. To learn more about Green's management team visit www.kramsports.com and @kransport.