Yoresh Launches the "Show Your Roots Signature Collection" of "Romantic in Hebrew" Themed, Ceramic Art.
Press Release
•
Oct 17, 2016
Michal Yoresh is excited to release the Signature Collection of handcrafted ceramic planters, featuring popular Hebrew romantic sayings, with which you can proudly show off your Jewish roots.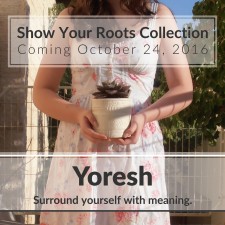 Modi'in-Maccabim-Re'ut, Israel, October 17, 2016 (Newswire.com) - ​Yoresh is launching its newest line of handmade ceramic planters, with a romantically inspired Jewish theme, this October 24.
The Jewish romance inspired line, will consist of four different Hebrew sayings. All in fresh, calm white ceramics. They are built to carry the charm of the rustic handmade craft, without being too rough or bold.
Each planter is engraved with one of the following Hebrew phrases:
These planters will be a constant reminder of the giver's love and commitment, as well as of the receiver connection to the Hebrew and Jewish world.

Michal Yoresh, Potter
· אבנים שחקו מים / "...as water wears away the stones" / source: Job 14:19/ That Hebrew idiom can be translated to mean: With perseverance, you can eventually achieve any goal you set for yourself.
· אתה שלום וביתך שלום / Source: Samuel 1 25:6 / Meaning: "… Peace be to you, and peace be to your home".
· אל אשר תלכי אלך / Source: The Book of Ruth, chapter 1 verse 16 / "...Wherever you go, I'll go (I'll follow)".
· עד חצי המלכות / Source: Esther 5:6 / Meaning: "… whatever you want, up to half the kingdom". Used for saying: Ask for anything, I will give it to you.
These planters are Judaica modern and functional art. They combine Jewish saying in Hebrew characters, with contemporary art design. The receivers of these planters will have the pleasure of having a beautiful and distinctive Jewish artifact in their immediate surroundings.
Michal Yoresh began her journey with clay after graduating many other academic fields. In 2015, after being a professionally practicing ceramicist for four years, she found a way to combine her love of the written word, and passion of Hebrew lettering, to establish a distinctive artistic voice.
Today Yoresh is growing to be the "go to" answer to all pottery things that have a modern aesthetic Hebrew on them. Everything Yoresh is making, is made by hand and sent worldwide from her small home studio in Israel.
Here's what some of Yoresh's customers had to say:
..."Superbly crafted, functionally perfect, and a true work of art".
..."This is Functional Art! So Beautiful! Michal Yoresh is Exceptional! Caring and Kind!".
..."It's even better in person! This is very functional but also something that will be passed on to the next generation one day. The craftsmanship Is superb".
..."Loved it so much I bought another one!".
..."Michal is a true artisan and her work is outstanding! A pleasure both to use her wares and do business with!".
Source: Yoresh
Related Media
Tags
Additional Links