Yoga Icon Wai Lana Releases 'Colors' Music Video in Honor of 4th International Yoga Day 2018
Press Release
•
updated: Jun 19, 2018
In what has become a much-anticipated tradition, world-renowned yoga teacher Wai Lana is releasing her new "Colors" music video on Yoga Day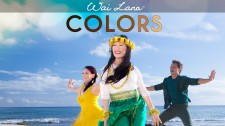 SACRAMENTO, Calif., June 19, 2018 (Newswire.com) - ​The one message Wai Lana wants to share more than anything is that yoga is for everyone. Wai Lana explained, "Too many people, when they think of yoga, only think of yoga asanas. But yoga asanas are just a small part of a complete, holistic lifestyle. On this Yoga Day, I would like to emphasize that the deeper aspects of yoga are relevant to everyone. Everyone can greatly benefit from the knowledge gained through self-realization and the practice of yoga meditation."
Wai Lana points to racism as a problem that can be solved through the wisdom of yoga. "If we apply the teachings of yoga, there will not be conflicts between people just because they have different color skin." Wai Lana has crafted this timely and common sense message into her new music video, "Colors."
If we apply the teachings of yoga, there will not be conflicts between people just because they have different color skin.

Wai Lana
"We feel close to each other and share our goodwill for others when we are of the same color or race," Wai Lana explains. "But we really need to expand our feelings of kinship to everyone. My new song "Colors" gives the analogy that our bodies are just like the clothes we are wearing. They come in all different shapes, sizes, and colors. But just as we are not our clothes, we are also not our material bodies. This is the teaching of yoga. If we can appreciate this, we will naturally look beyond our external differences."
The release of Colors follows Wai Lana's three previous Yoga Day releases, each of which touched the hearts and minds of millions of viewers around the world. In 2015, she released "Namaste," which spread the message of one of yoga's main precepts, which is to be respectful to all. Then in 2016, Wai Lana's "Alive Forever" short film delivered a beautiful cinematic expression of the ancient meditation "Aham Brahmasmi," shows the audience that, by appreciating the immortality of the soul, anyone can overcome the sadness that often accompanies the aging of their body. In "Oh My Sweet Lord," released in 2017, Wai Lana reminded all to always remember Our Sweet Lord and, in doing so, fulfill everyone's eternal desire to love and be loved and end our loneliness. Now "Colors," a fun and upbeat song, offers a simple solution to unnecessary racial conflict and disharmony.
"Wai Lana Yoga," the longest-running fitness series in the history of public television, is well known for featuring spectacular shooting locations. Shot on pristine beaches and in lush tropical scenery, "Colors" doesn't disappoint. As Wai Lana shares the positive message of "Colors" with her uplifting singing, the dancers communicate the message through their dancing.
Wai Lana's captivating music and lyrics create a unique genre which can best be described as music of the heart. All of her television shows and DVDs feature Wai Lana's beautiful, soothing soundtracks, many of which are available on Wai Lana's "Yoga Sound" and "Yoga Music of the Heart" albums. Her "Namaste," "Alive Forever," "Oh My Sweet Lord," and "Colors" tracks are part of her forthcoming album. Not simply an entertainer, Wai Lana's songs are full of spiritual depth and inspiration, as she shares how yoga wisdom can be a simple yet powerful foundation for improving one's life.
In 2016, Wai Lana was honored with India's prestigious Padma award for her extraordinary achievements in popularizing yoga globally. The Padma Awards are India's highest and most well-known civilian awards for exceptional and distinguished achievement in a particular field of human endeavor.
About Wai Lana
Wai Lana is the host of the long-running public television series "Wai Lana Yoga," which has aired in the U.S. and internationally for nearly four decades. She is not only a beautiful and charming yoga teacher, she is a mother of three, grandmother of six, songwriter, author, and a genuine advocate for helping people from all walks of life attain inner peace and well-being. Wai Lana has produced several yoga DVD series for people of all levels, published books, designed kids' yoga products, recorded music albums, released a meditation kit, developed a complete line of yoga gear, and even has her own line of all-natural snacks.
Link to "Colors" music video: https://www.youtube.com/watch?v=Z4L7quLF64U
Photos to download: https://bit.ly/2ljNPiM
Website: wailana.com
Media Contact
Fiona Fitzgerald
Fiona@wailana.com
800-624-9163
Source: Wai Lana
Related Media
Tags