YiYiEnglish: English Education, Reimagined
Press Release
-
updated: Jan 13, 2017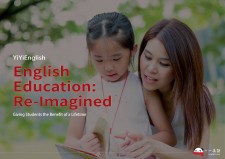 New York, NY, January 13, 2017 (Newswire.com) - ​For many non-native English speakers, English is a constant companion that challenges their paths to success. Be it academic, professional, or personal, learning English has been and will remain a difficult task for international students. This is exacerbated by the lack of resources in their native countries. Every year, millions of Chinese students face these issues that result in mispronunciations and awkward accents. While there are many books, classes, and seminars, they fall short of a fostering environment that is filled with native English speakers. And before long, their opportunities to study abroad have passed on.
Enter YiYiEnglish.com, a new English education organization that aims to change this and provide the best native English education to English learners in China. Based in New York City, YiYiEnglish is founded by Wall Street professionals in 2014 and currently maintains offices in New York and Beijing. YiYiEnglish provides a comprehensive curriculum of native English education resources, including SAT / TOEFL / IELTS preparations, summer camp educations, and AP-level classes.
The key value proposition for YiYiEnglish lies in its teacher quality and personalized teaching methodology. Unlike other English classes, YiYiEnglish works with teachers from top universities around the world, such as Harvard, Columbia, Oxford, and MIT. Because of this, YiYiEnglish is able to provide the most authentic education experience for English learners. In addition, YiYiEnglish has partnered with select universities and non-profit organizations to provide students with experiential opportunities, such as summer camps and internships at Fortune 500 companies, to further solidify students' learning of the English language.
Secondly, with YiYiEnglish's personalized education, students who have participated in the program have achieved great success in all aspects of the language acquisition process: listening, speaking, reading, and writing. In addition, YiYiEnglish also provides English education across grade levels, so there is a curriculum for everyone – be it K-12, college, or professional grades. Through 1-on-1 instruction, YiYiEnglish helps students overcome the language barrier to jumpstart their journey in school and beyond.
"We are proud of our rapid growth," Martin Liu, the CEO of YiYiEnglish remarks. "It is an exciting time for our all-star team and we are well-positioned for the journey ahead." Indeed, the global market for English education is estimated to be $30 billion and growing. "We are confident that students would find tremendous value in YiYiEnglish, and that YiYiEnglish will become the top program to help students master the English language."
Media Contact:
Yang
Phone: (929) 888-7985
Email: contact@shoo-in.com
Source: YiYiEnglish
---
Categories: English as a Second Language, Education
Tags: education, second language, yiyi english
---