Yips Total Spectrum Launches in May 2020
Press Release
•
updated: Apr 24, 2020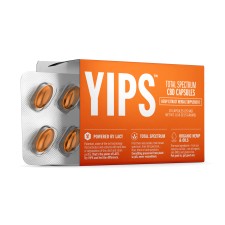 DALLAS, April 24, 2020 (Newswire.com) - Pony Oil Wellness, LLC ("Pony") and Harvest Direct Enterprises, LLC ("HDE") have partnered to launch Yips – the first hemp-derived Total Spectrum CBD product offered in a softgel capsule. Yips will be available for purchase in Texas and Oklahoma beginning in May. Yips will also be available for purchase on the company's e-commerce site https://www.yips.co/, beginning in July.
Created with HDE's patented, state-of-the-art extraction and lossless activation technology ("LACY"), Yips is the first product to capture all of the hemp flower's cannabinoids, terpenes and other constituents (the "Total Spectrum"), not just CBD and/or major terpenes. As a result, Yips delivers an unaltered CBD product that allows the consumer to experience a distinct and targeted effect.
"Yips marks a new way to experience CBD products – the 'Total Spectrum,'" said John Paul Merritt, CEO of Pony and Yips. "Through strict quality control measures and the LACY advantage, we deliver a naturally formulated product that allows the consumer to escape distraction and elevate their edge."
"Harvest Direct is very excited about this partnership," said Zeyead Gharib, CEO of Harvest Direct and President of Yips. "It's directly in line with our mission statement: bringing everything cannabis and hemp have to offer, the 'Total Spectrum', to the people who need it the most."
At launch, Yips will offer hemp-derived 25mg Total Spectrum CBD softgel capsules in 30 count, 10 count and two count varieties.
Pony and HDE have partnered to bring HDE's industry-leading intellectual property to market through unique brands and SKUs that speak through high-quality, reliable products; and not unvalidated claims. To that end, Yips is manufactured, formulated, and tested to ensure compliance under the strictest scrutiny regarding the sale of CBD, including existing FDA regulations for labeling and marketing. Furthermore, the product, the underlying formulation, and the technology are proudly produced in the USA.
For more information, please visit https://www.yips.co/.
About Pony Oil Wellness, LLC
Pony is a private diversified asset management company based in Dallas, Texas that invests in cannabis companies through capital and operational contributions. Currently, Pony manages assets in excess of $20,000,000 in the cannabis space. Pony is committed to investing in unique and novel cannabis concepts that promote stability, transparency, and reliability.
About Harvest Direct Enterprises, LLC
HDE is a cannabis intellectual property company based in Ardmore, Oklahoma. HDE focuses on identifying and patenting cannabis processing efficiencies, including the elimination of plant profile degradation. HDE has one awarded patent and 25 patents currently in development. For more information, please visit https://www.harvestdirectenterprises.com/.
Source: Yips LLC