Yes Development Announces Release of MyKepSafe Through Kickstarter - a Product That Holds Keys, Cash, Coins and Much More
Press Release
•
updated: Aug 29, 2017
"Everybody needs one of these," says customer Dan Linsey.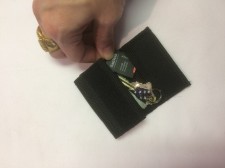 LAYTON, Utah, August 29, 2017 (Newswire.com) - Yes Development, a Layton, Utah company announces the release of MyKeypSafe through Kickstarter. The company says that this new product is not only very simple but incredibly useful. The product is said to hold as many as 8 keys on a belt or backpack — or just about anything else.
When the company president, Steve Morrow was asked how this product could be used, he became animated and you could tell he was excited about the product. "No more lost keys! Go jogging and place your house key on your shoe. Give your young son or daughter the key to the house and not ever worry again if they will misplace the key," said Morrow. "And not only keys but cash, coins, SD Cards, small pocket knives, gym membership cards and more. Never has there ever been anything quite like this."
I kept losing my house keys over and over and kept getting locked out. Now, I just put it on my bike and off I go! I don't have to worry anymore.

Anthony R., User of MyKeypSafe
Steve says he came up with the idea for this product because one of the people he shared office space with would regularly forget their office keys and would leave the office unlocked overnight. This product is available only on Kickstarter through Sept. 6.
Charla G., a MyKeypSafe user, shares, "I go running every morning and I hate putting things in my pockets because they jump around in there, so attaching it to my shoes was the perfect solution for me!"
About Steven Morrow
Founder and CEO, Steven Morrow was born in Munich, Germany and raised in both Maryland, New Jersey and Pasadena Texas. He has been a Utah resident since 1979. His educational background includes San Jacinto College, University of Houston, and Brigham Young University.
An entrepreneur at heart, he helped build a snack food company from its creation into a a $55 million per year enterprise. He has personally supervised all aspects of that business; ordering the raw food ingredients, packaging supplies, shipping, and production. He set up the quality control procedures and even managed the commpany's trade shows. When he started for the snack food company, he increased produced 800% in just four weeks while putting into place procedures that significantly improved the consistency and quality of the products. He personally came up with several new food variations that successfully launched this snack food product into Target, Wal-Mart, Rite Aid, CVS, BJ's, Wholesale Club, and K-Mart, along with many grocery chains nationwide. This snack food item became on of the top ten selling snack items in the U.S., until the company was sold in the early 90s.
He also started several companies and products that require professional sewing in the last 10 years, including Deep Conceal, ToteStrap, FlapWrap and Zeus Noose. They have three locations where they already do professional sewing. They just need to bring the material in so they can produce MyKeypSafe.
Media Contact Info
​Steve Morrow
​steve@yesdevelopment.com
801-926-9925
Source: MyKeypSafe
Related Media
Tags
Additional Links