Yardley Products Releases New Thermal Inserting Press
The Thermal Inserting Press 2.0 provides a simple and economical way to install metal inserts into thermoplastics, with an all-new digital display and controls
Press Release
-
updated: Sep 10, 2018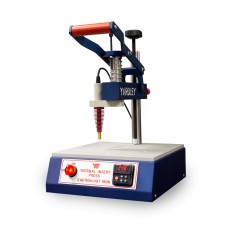 YARDLEY, Pa., September 10, 2018 (Newswire.com) - Yardley Products, the U.S.-based manufacturer of high quality threaded metal inserts, officially released its all-new digitally enhanced Thermal Inserting Press 2.0 for purchase.
The Thermal Inserting Press 2.0 provides manufacturers with the ability to circumvent the typically expensive and complex ultrasonic equipment required to install threaded metal inserts into thermoplastics. For users working on 3D printing, prototyping, or low volume production, the Thermal Inserting Press provides an inexpensive option requiring little investment and space to produce the same quality end-result.
The new version of Yardley's Thermal Inserting Press also includes an all-new digital display with digital controls, to allow for precise temperature control. The ability to control the temperature prevents damage to plastic while also providing a strong, permanent installation of inserts with high resistance to rotation and pull-out.
"As a manufacturer of premier threaded metal inserts and insertion tools, Yardley Products strives to take steps to improve our products that will directly impact our customers. The Thermal Press 2.0 is another step in that direction," said Ken Grady, General Manager of Yardley Products. "The new digital display will allow users to more precisely control the temperature of the thermal press, allowing for a cleaner application. This product will save manufacturers hours of time, and a huge amount of space on their shop floors."
This temperature control prevents damage to plastic while also providing a strong, permanent installation of inserts with high resistance to rotation and pull-out.
Due to increased demand, Yardley Products reached out James Stern, Vice President at Trinetics Group, for a way to increase production of the thermal installation tool. While developing a more efficient way of producing the thermal press, Stern and his team also took the initiative to improve the original version of the thermal press.
Along with updating the digital display for accurate temperature control, Trinetics incorporated other updates to make the process of using the thermal press more repeatable, including an improved arm linkage.
"We made the arm linkage simpler to make the process of pressing inserts much smoother," said James Stern. "At the same time, we decreased the amount of pressure required but made sure the arm provided plenty of resistive feedback, allowing for a consistent install."
All of the painted parts were also upgraded to hard, anodized parts, giving the thermal press a higher quality finish.
The Thermal Inserting Press 2.0 is priced at $2,450.00 and is available for purchase at www.yardleyproducts.com. At this price point, manufacturers will be able to save money as well as space due to the compact size of the thermal press.
About Yardley Products
Yardley Products has been producing high quality threaded metal insert fasteners in the U.S. since 1946. Yardley's patented design metal inserts are designed to meet high tolerances across a variety of materials ranging from wood to plastics and available in a multitude of installation options, including molded-in, epoxied-in, thermal, pressed-in, and more. For more information please visit www.yardleyproducts.com.
About Trinetics Group
Trinetics Group is a manufacturer providing plastic part development, assembly, plastic welding services, and equipment. Our plastic welding equipment technologies include spin welding, ultrasonic welding, infrared welding, and hot gas extrusion welding.
Trinetics Group provides vertically integrated manufacturing solutions from product design to manufacturing and packaging. Our team specializes in filter assembly, hermetic sealing of PCB enclosures, custom tank fabrication and many other types of high volume plastic processing. For more information, please visit www.trineticsgroup.com.
Source: Yardley Products
Share:
---
Categories: Plastics
Tags: heat staking, insertion, sealing, thermal press, thermoplastics, threaded metal inserts
---