XTory Releases 'The Modern Duchess' New Jewelry Collection 2018
New summer collection expected to generate a buzz worldwide with this new line inspired by Portuguese tiles jewelry
Press Release
-
updated: May 2, 2018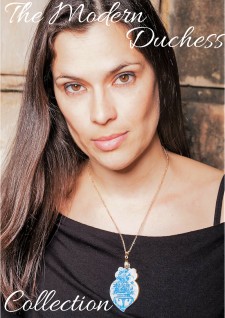 LISBON, Portugal, May 2, 2018 (Newswire.com) - New summer collection expected to generate a buzz worldwide with this new line inspired by Portuguese tiles jewelry and made from rose gold, champagne gold and higher-quality materials. Some have real shell sculptures of the Viana's Heart, the Portuguese heart, and it's a statement piece.
The jewelry designer Inês Lamy from XTory is releasing the brand new "The Modern Duchess" Collection and each product will be individually handmade by the designer herself. The Modern Duchess will be released on May 7, 2018
XTory is known for helping trendy women so they can be in style all year long with a twist of history.
Thus, for the first time, Inês has created an entire product line of her favorite and most popular jewelry. The new Modern Duchess is scheduled to go live on May 7, 2018.
This collection name was chosen after the fact that most materials have a higher and superior quality, so that women can feel special, almost like royalty.
The collection will be exclusively sold on the website xtoryjewelry.com where the limited products are scheduled to sell out by the end of the season.
The earrings are designed to showcase the fact that Portuguese tiles can be worn with elegance. Women will benefit from the fact that they will make a statement and still maintain their comfort.
Several products come in rose gold and champagne to capitalize on today's trends.
Some earrings are also finished with sterling silver ear wires, which means all women with allergies can benefit and will be able to wear them.
All pieces are original hand worked and will be a must-have in every closet to those who have a connection with Portugal.
Portuguese symbols are directly connected with this collection, but not overwhelming enough to prevent women worldwide to wear them with confidence because of its bohemian romantic patterns.
Collection full of blues and golds, trendy and must-have colours in all seasons.  
Her collection also includes rings, bracelets and necklaces that can be worn together or individually with other pieces.
Each individual piece has its own name. A few examples are:
Big Portuguese Shell Heart Necklace
 
Adriel Big Hoop Earrings
 
Ray of Light Bracelet
 
Square Magical Rose Nest Earrings
 
Nature Birds & Flowers Earrings
The Modern Duchess Collection ranges in price from €16 to €85.
Inês is excited to welcome her fans to the new handmade product line collection they've been requesting.
CONTACT INFO
For more information about The Modern Duchess or for an interview with Inês Lamy, please write to xtory@hotmail.com. Media high-res photos available upon request.
About XTory
Inês Lamy started designing Jewelry based on tile patterns after she was faced with a very real problem - lack of originality of most Jewelry around the world. After many months of creating tile-based jewelry by hand, Inês' products started gaining notoriety amongst the jewelry industry around the world.
Source: XTory
Share:
---
Tags: azulejo jewelry, azulejos, designer jewelry, elegant jewelry, Modern Duchess, Portugal, Portuguese jewelry, Portuguese Tiles, Portuguese tiles Jewelry, rose gold earrings, Tile Jewelry, trendy now
---