XL Lifts Partners With MYMIC Training Technologies to Distribute Industry's First Automated Pre-Operation Inspection Apps for Heavy Equipment
The Electronic Marine Equipment Checklist (eMEC) and Heavy Equipment Checklist smartphone apps are now available through XL Lifts.
Press Release
-
updated: Apr 18, 2017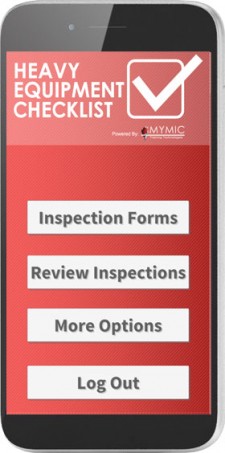 Ventura, CA, April 18, 2017 (Newswire.com) - XL Lifts, a one-stop source for big equipment, parts and maintenance software solutions, today announced that it is now an authorized distributor of the Electronic Marine Equipment Checklist (eMEC) and Heavy Equipment Checklist smartphone apps, powered by MYMIC Training Technologies. 
The apps were designed to provide an automated way to perform required pre-operation inspections on heavy equipment such as marine forklifts, industrial forklifts, travel lifts and hydraulic trailers. Checklists come direct from the manufacturer to ensure companies are inspecting the most pertinent safety-related components of their equipment such as tire condition, load backrests, overhead guard, finger guard and engine belts.  A free demo can be downloaded at http://xlliftsinc.com/maintenance/demo.
MYMIC Training Technologies CEO, Jay Bhatt commented "We are delighted that XL Lifts has embraced our unique technology to modernize and update the way mandated pre-operation equipment inspections are conducted. XL Lifts is a proven leader in its field and shares our commitment to safety.  We are very excited to partner with XL Lifts."
"MYMIC Training Technologies is going to revolutionize the way industries conduct pre-operation maintenance inspections and I am thrilled to partner with them," said Mike Marzahl, president of XL Lifts.  "The first of its kind, this unique technology is easy-to-use and will save companies thousands of dollars, mitigate non-compliance risk and make maintenance teams accountable for these crucial reports."
Key benefits include:
Easy-to-Use interface - With just a few clicks, maintenance crews can easily complete equipment maintenance inspections. They simply use a smart phone or tablet camera to scan the customized bar code sticker, launch the manufacturer's recommended inspection form and tap away. Daily, weekly and monthly forms are dynamically generated depending on the status of the equipment.
Accountability - Maintenance teams become accountable for daily inspections that will become a regular part of operations. 
Accessible Reports Anytime, Anywhere - As soon as an inspection is completed, managers, owners and executives have instant access to reports either on the Web or through their smart phone. Reports can be sorted, viewed and printed by date, passed, failed or needs inspection. Valuable insight can also help plan for future maintenance costs. Data is stored in the cloud so operations teams never need to worry about losing valuable data.
Saves Time and Money – The apps eliminate manual data entry and the risk of data entry errors or lost data.  
Mitigate Non-Compliance Risks - Maintenance records are critical to achieving OSHA safety compliance. Reports are store in the cloud and always available reducing the risk of thousands of dollars in potential non-compliance fees due to lack of paperwork.
About MYMIC Training Technologies
MYMIC Training Technologies specializes in equipment inspection mobile apps, forklift/travel lift operator certification, on-site training, safety program management, game-based learning, simulation, modeling and computer visualization solutions.  Combining practical expertise with the knowledge gained from research and experimentation, the company delivers innovative and practical solutions that customers can rapidly implement.  More information about MYMIC Training Technologies can be found at http://www.marinasafetytraining.com/
About XL Lifts
XL Lifts is a one-stop source for big equipment, parts and maintenance software solutions.  An authorized dealer for Wiggins Lift, ASCOM and MYMIC Training Technologies, XL Lifts prides itself on providing customers with the personalized attention and industry know-how required to purchase and maintain big equipment. More information about XL Lifts can be found at www.xlliftsinc.com/maintenance.
Media Contact:
Aimee L. Quemuel at Codey Communications
(415) 753-9005 or aimee@codeycommunications.com
Share:
---
Categories: Heavy Machinery, Shipping
Tags: electronic marine equipment checklist, eMEC, heavy equipment checklist, heavy equipment inspections, OSHA compliance
---