XenData Partners With Wasabi to Launch a Cloud File Storage Service
Press Release
•
updated: Mar 20, 2019
The new service is ideal for many creative media, image, scientific and engineering active archive applications. It allows file-based applications to seamlessly use Wasabi hot cloud storage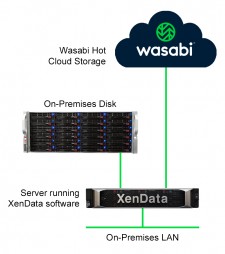 WALNUT CREEK, Calif., March 20, 2019 (Newswire.com) - ​​​​​​​​​​​​XenData, the global provider of high-capacity data storage solutions based on hybrid cloud, data tape and optical cartridges, launches a highly scalable, yet affordable service to archive files to Wasabi hot cloud storage. It includes subscriptions for XenData Cloud File Gateway software that runs on Windows servers on-premises and allows any file-based application running on the local network to write to and read from Wasabi. The service creates a hybrid cloud archive using XenData software to manage a local disk volume creating a smart disk cache which maximizes overall restore performance and minimizes the use of internet bandwidth.
The service also includes a subscription for XenData FS Mirror. This is file system mirroring software that runs on the same server as the Cloud File Gateway. It allows any file-folder structure on the local network to be mirrored to Wasabi, providing data protection and disaster recovery copies of selected network file systems.
The new Cloud File Storage Service is available with a very simple charging model. The price is $0.01 per GB per month based only on the volume of data stored in the cloud. There are no charges for uploads or downloads. The price includes Premium XenData Support and software subscriptions for an unlimited number of installations of XenData Cloud File Gateway and FS Mirror.
Most other public cloud storage providers have hefty charges for downloads to on-premises locations. These are often termed egress or bandwidth charges and they can be prohibitively high. The XenData-Wasabi approach, with no egress or API request fees, makes cloud storage attractive for active archive applications which typically have frequent file restores.
The new Cloud File Storage Service also provides the following functionality:
Standard Network Protocols. Access to the gateway over the network is via SMB, NFS and FTP. The system allows multiple file-based applications and multiple clients to simultaneously use Wasabi cloud storage.
Standard Network Security. The gateway storage volume is fully compliant with the Microsoft security model based on Active Directory, allowing easy introduction into an existing Windows domain or workgroup.
Secure and Fast Transfers to and from Wasabi. The gateway uses multi-part HTTPS; consequently, all data transferred is encrypted using SSL/TLS.
Supports Partial File Restores. Only the requested portion of a file is downloaded which is ideal for creating clips from larger video files, as well as for streaming video files.
Securely Shares Files Anywhere. Credentials may be provided to remote sites and users that give them read-only access to the content uploaded via the gateway.
The Cloud File Storage Service allows files to be written to any of the three Wasabi regions: US-West, US-East and EU-Central. Furthermore, it can be extended to multi-cloud environments, allowing files to be written to and restored from other cloud storage providers, in addition to Wasabi. These include Microsoft Azure and Amazon Web Services. For example, files written to Wasabi can be copied to AWS Glacier or to Azure Blob Storage.
Dr. Phil Storey, XenData CEO, commented, "The Wasabi approach, with zero egress fees, makes cloud storage attractive for active archive applications. Now, by adding XenData Cloud File Gateway and FS Mirror subscriptions, we bring the benefits of Wasabi hot cloud storage to applications that are file-based and do not natively support S3."
The new service can be added to an existing XenData LTO data tape archive. In this configuration, files can be easily copied or migrated to the Wasabi cloud.
"The integration of XenData's Cloud File Gateway and FS Mirror software with Wasabi hot cloud storage creates an affordable pathway for content owners to migrate their LTO archives to the cloud," stated David Friend, CEO of Wasabi. "Since Wasabi doesn't charge for data egress, XenData's customers can finally enjoy Active Archiving in the cloud without paying a penalty to retrieve their media for a project restore or just a quick review."
The XenData Cloud File Storage Service will be available starting May 1, 2019. The Cloud File Gateway and FS mirror software is currently available in preview and will be demonstrated at NAB 2019 in Las Vegas from April 8-11 on the XenData booth at SL 13613.
About Wasabi
Wasabi is the hot cloud storage company delivering disruptive storage technology that is 1/5th the price and up to 6x the speed of Amazon S3 with no additional fees for egress or API requests. Unlike first-generation cloud vendors, Wasabi focuses solely on providing the world's best cloud storage platform. Created by Carbonite co-founders and cloud storage pioneers David Friend and Jeff Flowers, Wasabi is on a mission to commoditize the storage industry. Wasabi is a privately held company based in Boston, Massachusetts. Follow and connect with Wasabi on Twitter, Facebook, Instagram and our blog.
About XenData
XenData is a global provider of professional data storage solutions optimized for video and other applications with high volumes of large files. It offers highly scalable on-premises active archive systems and hybrid cloud solutions built on a global file system. XenData archive systems provide secure long-term retention of digital assets on RAID, LTO, optical disc cartridges and/or the cloud. Its hybrid cloud solutions allow file-based applications to use cloud object storage without modification. Furthermore, they allow massive quantities of files to be synchronized across multiple cloud and on-premises locations.
XenData has customers in over 90 countries, including government organizations, large corporations, TV stations and media production companies. For more information, visit www.xendata.com.
For more information:
Alyssa Adriano
​Marketing Specialist
​XenData Inc.
T. +1 925 464 2618
E. aadriano@xendata.com
Source: XenData
Tags