WXY to Host ELEVEN, the World's Anticipated Blockchain Networking Meetup on Sept. 18
Press Release
-
updated: Sep 14, 2018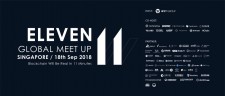 SINGAPORE, September 14, 2018 (Newswire.com) - With blockchain technology transitioning from its buzzword status to a viable business foundation that's here to stay, community meetups have been all the rage among the global pool of blockchain enthusiasts. Pitches brimming with potential, networking with the industry's pioneers and peers, and even scoping out the competition - these opportunities are no longer the highlights of meetups anymore: they're expected norms. And as meetups crowd with regular faces, the usual repetitive itinerary must hit a stroke of inspiration to keep its community coming back.
The WXY Group plans to change the way blockchain meetups are conducted, starting with a refreshed concept: ELEVEN. Conceived to promote real connection and valuable interaction, ELEVEN, co-hosted by renowned rating platforms One Top and "Super Species," will see a variety of 11 blockchain projects pitching their best in 11 minutes, after which time is allocated to allow invested audience members to seek one-to-one discussions with the presenters in private - and maybe even seal a deal. Extra perks include sharing sessions by key opinion leaders in the blockchain sphere and one-to-one media interviews for the projects on show.
The core of all events is its people and ELEVEN does not disappoint with its speaker lineup and invitees. Comprising prominent funds, projects, distinguished personnel and media like DHVC, ONTology, Nervos, NEO, CoinMarketCap and more, the event seeks to gather the industry's noteworthy profiles for an afternoon of fruitful networking.
Slated to run on Tuesday, Sept. 18, 2018, the ELEVEN Global Blockchain Meetup will take place at Mandarin Orchard hotel from 2.30-6 p.m.
Find out how to secure a spot at ELEVEN here.
About WXY Group
WXY Group is a leading marketing and investment firm in blockchain. Its service ranges across brand management, brand marketing, banking and investments. Since its establishment, WXY has served more than 30 blockchain projects such as DCC, Taxa, GSE, PCHIAN, Huobi, APEX, Coinsuper, HMS, Cobo, Lucidity, Hub, Cardstack, etc. Its track record includes venture capital acquisition from famous funds such as Huobi and 8 Decimal Capital.
For enquiries, contact: Thalia Shen | thalia.shen@wxycon.com
Source: WXY Group
---
Categories: Conventions, Trade Shows, Meetings and Events
Tags: blockchain, events, networking, singapore, technology, wxy
---