WrkSpot Expands Team, Welcomes New Sales Directors
Press Release
•
Feb 9, 2023
WrkSpot welcomes new directors of sales to the organization, bringing more than a combined 30 years of experience to the executive team.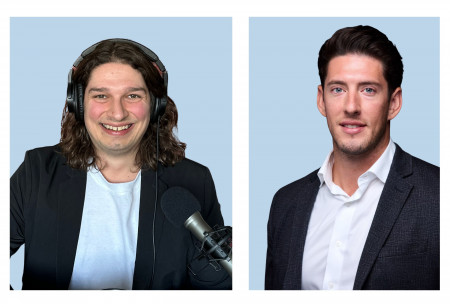 ARCADIA, Calif., February 9, 2023 (Newswire.com) - WrkSpot, the revolutionary software suite designed to optimize hotel portfolio management, has announced two key additions to its sales leadership team. Brent McMahan and Steve Carran have officially joined WrkSpot as the newest directors of sales. With McMahan coming in as the director of strategy and growth and Carran leading as the new director of business development, the duo is set to leverage their over 30 years of combined sales experience to accelerate Wkrspot's revenue in the new year.
Previously, McMahan worked as an enterprise sales director for SiteMinder for over eight years, earning multiple awards as a top revenue producer domestically and globally in North America. He spearheaded the company's efforts to drive revenue growth in North America and played a crucial role in its growth leading up to its IPO in 2021.
Before entering the hospitality technology sector, McMahan launched his own food retail business, focusing most of his initial efforts on developing strategic sales and marketing campaigns for the company.
"I'm thrilled to have the opportunity to build new relationships while introducing a trailblazing technology to the hospitality industry," said McMahan. "The multifaceted platform provides hoteliers with solutions to operational headaches that have plagued the sector for decades. In particular, I was impressed by the 3D smart hotel feature, which will serve as a groundbreaking innovation to hotel operations teams across the country."
McMahan joined the hospitality industry to serve those who shared his passion for travel. To date, he credits the wealth of knowledge and expertise he gained from joining a tech startup and learning what it takes to reach an IPO to the solid and long-lasting relationships he formed in his previous role.
"Consistency, combined with hard work, passion, and dedication, is almost always a recipe for success. I was delighted to learn that these traits are common amongst our entire team here at WrkSpot, and I am excited to begin working alongside them to expand our market presence," McMahan added.
Carran, who most recently served as the director of sales at Stayflexi, a Y Combinator-backed Property Management System (PMS), began his career in the hospitality technology space as a sales executive for Stayntouch, where he spent three and a half years. It was at Stayntouch that Carran developed a passion for hotels and the technology that enhances hotel room operations.
"The technology piqued my interest, but the people pulled me in," said Carran. "WrkSpot is a unique offering that organizes multiple solutions such as payroll, housekeeping, and inventory management into one streamlined platform, but what sets them apart is their focus on creating a positive workplace culture and employee experience. WrkSpot is not just about technology, it's about creating a better workplace for everyone."
Carran also sits on the board for the Southern Colorado Hospitality Sales and Marketing Association International (HSMAI) chapter in Colorado Springs. As a board member, Carran primarily focuses on helping grow business for hotels around Colorado and networking with other hospitality professionals.
When evaluating WrkSpot for the first time, Carran was drawn to the platform's ability to ensure employee and guest safety through its hotel compliance-focused features.
According to Carran, "In today's age, we need to ensure we keep our hoteliers safe, regardless of any situation that may arise. What makes WrkSpot a one-of-a-kind product is its ability to keep hoteliers safe while helping them to be more profitable. Seeing where your hoteliers are in real-time and pointing them to the safest exit from the app is just one example of a critical tool in an emergency."
Carran went on to praise the simplistic nature of the platform, specifically in its ability to help hoteliers manage their time cards and for management teams to keep track of payroll and budgeting via desktop or mobile app.
"The hotel labor management toolkit, when paired with the operations side of the business, reduces the number of required integrations and slashes costs for hotel owners," added Carran.
In addition to his role at WrkSpot, Carran is also the co-host of The Modern Hotelier podcast, where Steve and co-host David Millili connect with hospitality executives, personalities, and influencers to talk about the latest industry trends.
To learn more about WrkSpot and its newly appointed sales leaders, please visit https://www.wrkspot.com.
About WrkSpot
WrkSpot, founded in 2017, is the developer of a revolutionary software suite for hotel portfolio management that integrates HRIS, operations management, and communication in a single app. By managing and engaging staff, controlling costs and streamlining operations, and improving compliance and safety, WrkSpot allows hotel managers to avoid being bogged down by the unavoidable details of hotel operations.
Source: WrkSpot
Related Media