Write535.com is the the First and Only Write-to-the-Entire-Congress Personalized Mailing Service
Press Release
•
updated: May 3, 2017
A writer need only provide text — Write535.com formats, prints and mails personalized letters to all members of Congress, or all in a party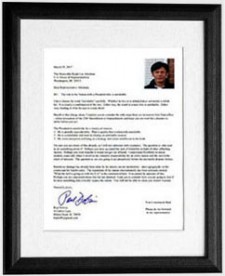 HILTON HEAD ISLAND, SC, May 3, 2017 (Newswire.com) - Dobrin Industries Inc. is now offering a service for individuals and groups who seek to write every member of Congress or every member of either of the parties – all at once. All the client has to provide is the body text and, optionally, their signature and up to two photos. Write535.com does the rest!
All letters are professionally formatted and personally addressed (including the salutation) to each member. Signatures are printed in blue so they appear to be personally signed. Up to two 1.75-by-3.5-inch photos are printed in full 4-color on heavy 60# text paper. Envelopes are First-Class Forever stamped — not bulk mailed. Writers who would prefer to put the letters in the mail personally can receive all the letters in one box via Priority Mail. A commemorative 11-by-14-inch frame is sold separately.
There are likely many in this politically charged nation who would like to express themselves in such an extraordinary way but have not done so because of the time, difficulty and expense of doing it themselves and the lack of commercial vendors to do it for them.
Founded in 1990, Dobrin Industries Inc. designs and manufactures personalized multi-photo picture frames that show the passage of time — on the website Time-Frames.com. Our record is impeccable: selling over 200,000 frames with a 99.8% customer satisfaction rate. Write535.com was launched in April of 2017.
For more information (press only):
Paul Dobrin, 800-353-2229, cs@Write535.com
Source: Dobrin Industries Inc.
Related Media
Related Files
Additional Links