Wrap-Around Program Has Helped More Than 700 Oregon Families Stay in Their Homes
Press Release
•
updated: May 5, 2022
Neighborhood Health Center's wrap-around service program connects Oregon families to food, mortgage assistance and other resources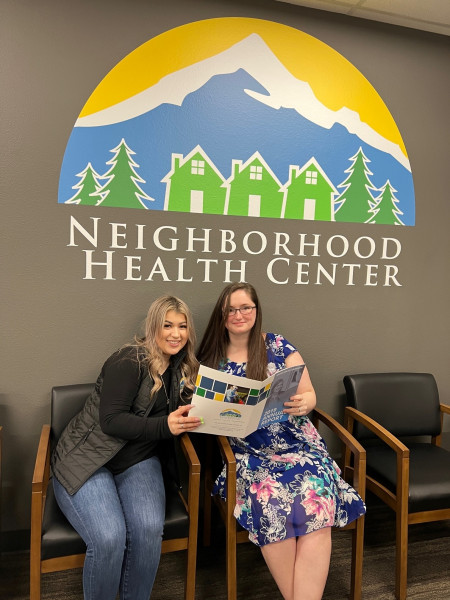 PORTLAND, Ore., April 21, 2022 (Newswire.com) - For the past two years, Community Health Workers Amber Webb and Yesi Olvera have put in long days, working late into the evenings and on weekends to help 704 Oregon families access rental assistance, food, utilities, medication, and other basic services. Webb and Olvera are employed by Neighborhood Health Center (NHC), a non-profit community health center that offers medical, dental, family planning/reproductive health and behavioral health services to Medicaid, Medicare and underinsured patients in the Portland metro area.
Recognizing the need to address some of the other impacts of the pandemic, NHC offered to enroll Webb and Olvera in a Community Health Worker (CHW) certification program offered through Oregon State University. Olvera, who was an Engagement Ambassador helping patients with Oregon Health Plan enrollment and navigation and doing emergency room outreach, leapt at the opportunity. "I wanted to do more," she explained.
While some similar programs popped up early in the pandemic, many others have slowed down as pandemic funds ran out: "Where other programs have ended, we continued to seek out funding to provide these services," Olvera added.
Olvera noted that sometimes COVID-19 would run through one member of the household after another, causing families to have to quarantine for up to a month and a half: "If they are out of work, that means they are out of income for those days. For families already struggling, it can be devastating and extremely difficult to get caught up."
"We'd see a lot of families where mom would go to the hospital to deliver, get diagnosed with COVID and then have to isolate with a brand new baby during a time that can already be challenging and overwhelming for parents. It's a lot," she added.
Olvera is fluent in Spanish and helps many who may otherwise be hesitant to reach out, such as undocumented and migrant families.
"Some of these households have 10 people, 15 people - multiple generations under one roof. A lot of families are struggling with job losses, housing instability, and are behind on their rent or mortgage," she explained.
One call stands out to Olvera - a family that had moved from California was referred to the program.
The family needed help enrolling in the Oregon Health Plan before another baby was due, accessing diapers, and connecting with food banks. Olvera spent almost two months supporting the family. She also helped enroll the kids in school, sign up for reduced lunch and put them in touch with a resource for free laptops.
That was almost two years ago. Recently, the mother reached out to Olvera to express her gratitude and to let her know how much the help had meant to her family.
Webb, who spent 10 years as a Medical Assistant before stepping into this role, leads the team and is responsible for monitoring, reporting and taking care of the financial portion. After spending so much time with sick patients, Webb decided she wanted to focus more on prevention.
She estimates that at its height, the team handled anywhere from 80 to 130 cases a month. "It's a little more manageable now," she explained. "We're now managing maybe 30 to 40 cases at a time."
The program is currently funded through June 2022. NHC hopes to expand this program to communities outside of Washington and Clackamas Counties to help families experiencing financial hardship.
###
Media Contact:
Penny L. Moore
Tel: 503.941.3054
Email: moorep@NHCOregon.org
Source: Neighborhood Health Center