Worldwide Container as a Service (CaaS) Market to Grow at a CAGR of 34.8% to Aggregate $4,208.1 Million by 2023
CaaS applications have evolved rapidly in the past 3 years. It has assisted in both Infrastructure as a Service (IaaS) and Platform as a Service (PaaS). The services will get integrated and replace Software as a Service (SaaS) to evolve further in the next 5-10 years.
Press Release
-
updated: Apr 10, 2017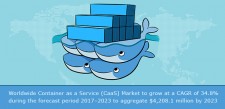 Bengalore, India, April 10, 2017 (Newswire.com) - Infoholic Research LLP, a global market research and consulting organization, has published a study titled "Worldwide Container as a Service (CaaS) Market – Drivers, Opportunities, Trends, and Forecasts: 2016–2023".
According to Infoholic Research, implementation of CaaS is becoming ubiquitous and nearly 70% of users are expected to adopt or evaluate the technology in the next 5–10 years. The CaaS technology helps organizations to reduce shipment time due to the hosted applications, and its service dependencies are bundled into a single package. In addition, this technique is easy to manage as Docker images are lightweight, enabling rapid delivery and deployment of new application containers. The market is expected to grow at a CAGR of 34.8% during the forecast period 2016–2023 to touch an aggregate of $4,208.1 million by 2023.
"Reliable & user friendly environment makes CaaS completely different and unique from others. Code management can be done through several machines, which makes easy, fast, cost-effective development and deployment for providers and enablers. However, it requires upgradation in long run as it cannot completely replace virtual machines."
The CaaS market is analyzed based on four segments: applications, deployment, verticals, and regions. CaaS provides a framework to manage container & application deployment and to manage Docker applications in production environment. Several applications have been included in the report among which, orchestration and networking & data management are the top priorities for Docker and container ecosystem providers. Moreover, two-third of the providers are offering management & orchestration and in addition, 10–15% of the providers are investing in developing new products for the same.
Receive a sample of the report
@ https://www.infoholicresearch.com/request-a-sample-report/?repid=5055
In terms of deployment, public cloud holds the majority of the share due to the increasing demand for resources (i.e. storage and compute). Hybrid cloud platform plays a major role in the enterprise infrastructure management. Moreover, the organizations have started to implement hybrid cloud with full infrastructure as they are looking to supplement legacy virtual resources with advanced container platform. The hybrid cloud is growing with the support of management service and microservice data environment as they offer better security, flexibility, and scalability.
In terms of verticals, IT & telecom, retail, and healthcare are the major end-users to build their infrastructure. The organizations can host more containers of larger size than that of any corresponding virtual environment. Moreover, a server can host 100–1,000 containers running on same workloads, which shows that the organizations are resource friendly ecosystem.
The Americas is the biggest market for CaaS. Container and Docker ecosystem has seen a major success here and is widely adopted by big organizations and enterprises. The Americas market is leading and expected to reach $2,050.6 million by 2023. Europe after the Americas is dominating the Docker community; also getting stronger and rapidly spreading across the major countries in Western Europe (i.e. Germany, the UK, and France). The major opportunistic regions are Asia Pacific and Middle East. The rising number of adoption of container technology is likely to drive the market in these regions. China and Japan are expected to be the major markets in Asia Pacific in the next 5 years.
Buy a complete report on Worldwide Container as a Service (CaaS) Market – Drivers, Opportunities, Trends, and Forecasts: 2016–2023
"At present, most of the enterprises are moving their workload from public cloud to private cloud or between the public clouds due to their portable and lightweight construction containers. The containers shift from software infrastructure to container technology due to its provision to use and move around applications. This impact will prove the CaaS market in the next 4–5 years." – Preeti Wadhwani, Team Lead at Infoholic Research
"Reliable & user friendly environment makes CaaS completely different and unique from others. Code management can be done through several machines, which makes easy, fast, cost-effective development and deployment for providers and enablers. However, it requires upgradation in long run as it cannot completely replace virtual machines," said Jaydeep Bhattacharjee – Group Head at Infoholic Research
Report Scope
The report covers the present scenario and the growth prospects of the "Worldwide Container as a Service" market during the forecast period 2016–2023. Moreover, to calculate the market size, the report considers the revenue generated from the sales of below-mentioned segments:
Applications – Includes revenue generated from orchestration, monitoring & logging, security, storage and continuous integration/continuous deployment, networking & data management, and others
Deployment – Includes revenue generated from IaaS, PaaS, and SaaS for public, private, and hybrid cloud
Verticals – Includes revenue generated from IT & telecom, BFSI, healthcare, education, media & entertainment, retail, travel & tourism, government, and others
Regions – Includes revenue generated from Americas, Europe, Asia Pacific (APAC), and Middle East & Africa (MEA)
·         The report covers the evolution of CaaS, its features, advantages, and importance
·         The report covers drivers, restraints, and opportunities (DRO) affecting the market growth over the next forecast years (2016–2023)
·         It contains analysis of vendor profiles, which include financial health, business units, key business priorities, SWOT, strategy, and views; and competitive landscape, which includes vendor assessment
·         The report covers the implementation of CaaS in media & entertainment, education, travel & tourism, healthcare, retail, financial services, and others
·         The report covers the adoption of CaaS in Americas, Europe, APAC, and MEA
Source: Infoholic Research
Share:
---
Categories: Internet and Streaming Media, Computers and Software, Client/Server Computing, Cloud computing, Saas (Software as Service), Information Technology
Tags: caas market, container as a service, container as a service market forecast, container as a service market, container as a service market prediction, container as a service market size, container as a service market trends
---