World's Largest LED Screens in a Football Stadium Installed at Newly Built Zenit Arena in Russia
Press Release
•
updated: Feb 8, 2017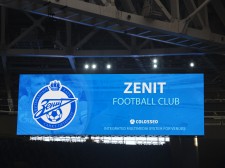 St. Petersburg, Russia, February 8, 2017 (Newswire.com) - ​​ColosseoEAS confirmed its leading position in the sports LED screens market by installing two of the world's largest LED screens in a football stadium. Each HD resolution screen has an active LED area of over 315 m2 (3.400 sq ft).
Zenit Arena, a brand new and one of the world's most advanced football stadiums is the future hosting venue for the 2018 FIFA World Cup as well as the new home for famous FC Zenit in St. Petersburg. It was officially opened during the final days of 2016.
This state-of-the-art facility with a UEFA cat. 4 rating has a massive capacity of 72.000 seats for football fans and up to 80.000 for theater or concert events. It is also the tallest stadium in Russia with an incredible 75 meters in height. Among its many technological features are a retractable roof, roll-out field, the latest IT infrastructure, and most importantly, two giant Colosseo LED screens with an enormous LED area of more than 600 sq. m in total!
Each screen measures 30,7 x 10,2 meters and features 16 mm LED technology. With the latest 3in1 SMD pixel, the screen has 1920 x 640 px HD resolution and provides superior picture quality.
Both screens, located on opposite stadium corners, are mounted on the steel and aluminum structures that are attached to the roof and are equipped with five catwalks for easy and convenient maintenance. The screen construction is designed to withstand severe winds from the nearby sea.
The screens are the largest of its kind among football stadiums across the world and will provide fans with amazing live action, slow motion replays, scores with timekeeping and other relevant information while sponsors gain massive digital space for promotion and advertisement with a rapid return on investment (RoI) for stadium owners.
The screens were designed and engineered by Colosseo and were manufactured at our manufacturing site in Slovakia. Colosseo is proud to have equipped another important UEFA cat. 4 football stadium for the upcoming 2018 FIFA World Cup.
About ColosseoEAS
ColosseoEAS, Inc. is the producer of the first completely integrated software platform for content creation, distribution and control for venues. With custom designed LED display systems, center hung scoreboards, timekeeping and scoring systems, mobile applications and IPTV, Colosseo has developed the most complete turnkey solution for sports venues, convention centers, shopping malls and transportation available on the market today. The Single Media Platform solution enables customers to optimize their operational process and resources while increasing media visibility, marketing revenue, fan experience and safety. With more than 50 installations in North America, Europe and Asia in the past 7 years, Colosseo is providing control room operators with cutting edge technology to take multimedia management, interactivity, entertainment and infotainment to a significantly higher level. Colosseo's most prestigious installations includes famous venues like the Verizon Center in Washington DC, Allianz Park in London, AccorHotels Arena Bercy in Paris and VTB Ice Palace in Moscow.
Source: ColosseoEAS, Inc.
Related Media