World's First 100% AI-Controlled and Executed House Purchase Processed by MORGAN
Press Release
•
updated: May 18, 2023
From home finding to mortgage application to ownership, the homeowner's personal AI assistant is making home buying easier using Celligence technology.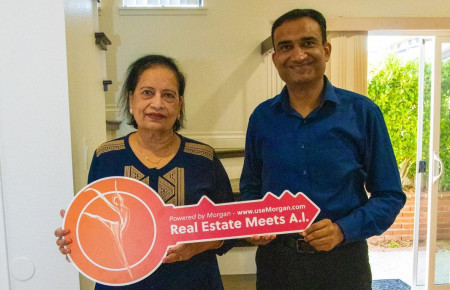 BUENA PARK, Calif., May 18, 2023 (Newswire.com) - Celligence, a fast-growing fintech startup, announced that they have completed the first end-to-end home purchase driven by an AI system. The AI platform, known as MORGAN, worked in tandem with the loan officer, escrow agent, listing agent, and buyer's agent to help the first-time home buyer secure his dream home. It is expected that this will be the first of many new developments that are set to revolutionize the real estate and finance industries.
Pavan Agarwal, CEO of Celligence, is an engineer and has been in the real estate industry his whole life. He saw the long and arduous homebuying process and focused on tech solutions to revolutionize the experience and process. Artificial intelligence is meant to simplify lives and make it easier to work. He created the first empathetic AI platform called MORGAN which, for the first time in human history, an AI connected a home buyer and home seller and then closed the home purchase transaction in less than 25 days.
Agarwal explained how MORGAN got the buyer conditionally approved in 30 minutes, sent him daily listings of potential homes that fit his criteria, determined the right offer price, sent proof of funds to the listing agent, created the offers and counter offers with the real estate agent, and worked with the real estate agent to fully close the purchase. "This speed, ease, and accuracy can only be achieved by implementing artificial intelligence to do the heavy lifting for the real estate agent," Pavan explained.
"As a professional who often works long hours, I was thrilled to discover the convenience of MORGAN in the home-buying process. With MORGAN available 24/7, I could easily access information on homes and schedule visits with my realtor on my own time. The entire process was incredibly user-friendly and streamlined," Rohit A. (the home buyer) explained. "This was a very successful real-world, 'first flight' of MORGAN as the homebuyer's personal assistant and our engineering team collected a lot of data in this process. The real estate agents and the loan officer loved the experience, but, most importantly, the first-time homebuyer was totally at ease because he knew he wasn't being 'sold to' by MORGAN (after all, an AI does not feel a desire or need to earn a commission) to give the most complete information that is available to her," explained Pavan Agarwal, founder of Celligence and creator of MORGAN.
As an engineer himself, Agarwal turned to technology as the solution to an outdated home purchase system. Models such as Chat GPT can generate vast amounts of information on a subject or execute math computations; however, none have been able to interact with humans, generate new information, or deliver value to anything near what MORGAN just did. This was a home purchase 100% processed by an artificial intelligence system. "We are proud to be one of the first to show a real-world, positive example of AI improving a business process. That is what AI is all about: using software tools in combination with human expertise to streamline an unnecessarily slow process," explained Agarwal.
About Celligence and Morgan
Celligence International, LLC is one of the fastest-growing fin-tech and AI companies. Celligence has engineered a novel AI that is evolving and self-generating neural cells which come together to solve complex problems. The Celligence AI is deterministic, not merely generative, and it delivers 100% accurate and trustworthy responses, as is required for financial transactions. At Celligence, a team of brilliant engineers are expanding the boundaries of the financial services industry through innovations in mobile applications, customer acquisition, retention algorithms, and AI-based process automation continuously filing new patents supporting our technology.
Celligence's development of Morgan is a first-of-its-kind, patented AI system using Empathetic Technology™. Morgan Emphatic Technology Platform interprets and gathers information as presented, in free form and dynamically builds a loan file in a non-structured stress-free method. Morgan has the ability to understand emotions from the users' expressions. Keystrokes, fluctuations in speed/timing, and word choice are intelligently analyzed allowing a dynamically altered user interface while gathering all necessary data points. This approach does two things, it reduces costs and empowers all income brackets and financially novice borrowers the ability to apply and be approved for a home mortgage. Morgan already has over 34,000 registered users and in Q1 2023 close to a 50% month-over-month increase in chat conversation volume.
Source: Celligence