World-Renowned Artist Vladimir Kush Exhibiting at Hamptons Fine Art Fair
Press Release
•
Jul 10, 2023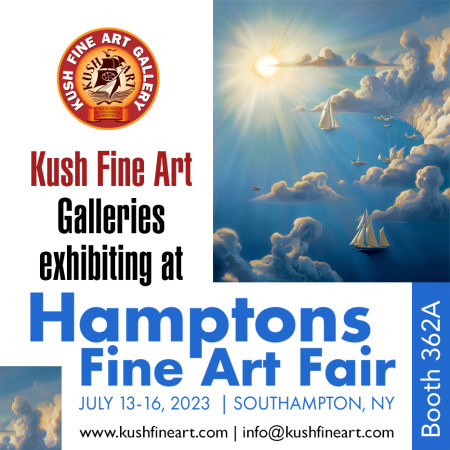 NEW YORK, July 10, 2023 (Newswire.com) - World-renowned artist Vladimir Kush brings his "Metaphorical Realism" to Southampton, NY, this summer. The artist will be exhibiting a curated collection of his artworks, including oil paintings, limited-edition prints, bronze sculptures, art books, and more.
Hamptons Fine Art Fair, summer's largest selection of high-caliber art in the nation, will be open to the public from July 13-16, 2023, at the Southampton Fairgrounds. Visit Kush Fine Art Gallery in booth #362A and embark on a Metaphorical Voyage into a world of the unknown, to a place where you only have to start noticing around you, and the miracle of connection is everywhere!
Visiting Kush Fine Art booth (#362A) will be the highlight and ultimate destination for anyone who maintains imagination, intellect, and exquisite taste for all genres of art. For more information and tickets, visit hamptonsfineartfair.com/vip-vernissage.
Kush's Metaphorical Realism genre of art is the feast for the eyes and the food for the intellect. Visit Kush Fine Art booth (#362A) as you seek the perfect piece to add to your collection. This is a very unique opportunity for all art collectors, fans, and art enthusiasts to discover and explore the Art of Imagination from up close and See the World in the Mirror of Metaphor through the eyes of the artist.
For more information, call or visit Kush Fine Art Galleries in Miami Beach, Laguna Beach, Las Vegas and Maui, or email at info@kushfineart.com and follow KFA Galleries on Instagram, Facebook, Twitter, and YouTube.
Source: Kush Fine Art