World-Renowned Artist Vladimir Kush Announces Upcoming Shows
Press Release
•
Apr 30, 2023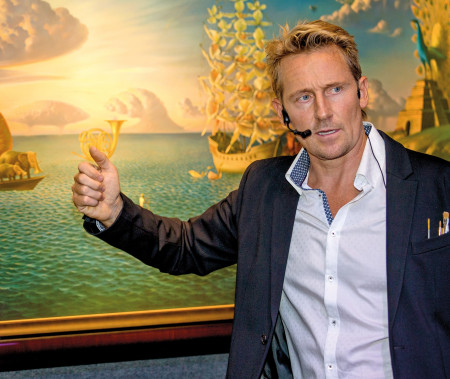 LAGUNA BEACH, Calif., April 30, 2023 (Newswire.com) - The dates have been set and during the month of May, world-renowned artist Vladimir Kush will take stage at his own chain of art galleries, Kush Fine Art in Laguna Beach and Las Vegas. It has been several months since Kush made an appearance during his exhibition at Art Wynwood in Miami, Florida, and this time around, he is back to unveil his latest masterpieces to his fans and collectors during a one-of-a-kind art show by the artist.
During this special occasion, guests are transported into the Art of Imagination with a live presentation by the painter, sculptor, and jewelry designer. The name of the show, "Awakening the Imagination," allows to build a bridge and make a connection between world mythology, symbolism, and metaphors to discover and explore "Metaphorical Realism," the genre of art created by the artist. As Kush describes, "We use metaphors in everyday language and most people think that it only belongs to the linguistic area of life, but I believe that it can also belong to the visual area of life."
Be a part of this magnificent event and don't miss the opportunity to meet the artist and "See the World in the Mirror of Metaphor" with a collection of paintings, limited-edition prints, bronze and silver sculptures, jewelry, art books, and more. Click on the following links to RSVP to Laguna Beach show on May 13 and 14 and Las Vegas show at The Forum Shops on May 20.
For more information, contact Kush Fine Art Galleries or email info@kushfineart.com. Visit Kushfineart.com to see the collection of artworks by the artist and follow Kush on Instagram, Facebook, Twitter and YouTube.
Source: Kush Fine Art