World Premiere Dinosaur Exhibition Opening at the Witte Museum
"Predators vs. Prey: Dinosaurs on the Land Before Texas"
Press Release
-
updated: May 25, 2018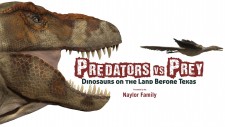 SAN ANTONIO, May 25, 2018 (Newswire.com) - Experience Texas like never before – in the world of Dinosaurs!
A journey spanning millions of years awaits visitors at the Witte Museum this summer. Travel back to the Mesozoic era and encounter life-sized animatronic dinosaurs and real fossils that have a Texas connection. Watch the dynamics between predators and prey come to life with augmented reality and immersive interactive.
"We are thrilled to bring a blockbuster exhibition that continues the Witte Museum's Texas Deep Time narrative," said Marise McDermott, President and CEO of the Witte Museum. "Dinosaurs are always fascinating and 'Predators vs. Prey' adds more drama by featuring dinosaurs that walked on what we now call Texas."
The exhibition will debut in the Mays Family Center and display realistic scenes of predators and prey facing off. Visitors will enter a grand scene of a Tyrannosaurus rex challenging the armored dinosaur, Edmontonia.  Witness a Tenontosaurus trying to fend off a pack of Deinonychus and immerse yourself in a world where size and strength do not guarantee you will not become prey.
"Each dinosaur in the exhibit is displayed in an environment reflecting the geography, geology, and flora of the period in which it lived," said Dr. Thomas Adams, Curator of Paleontology and Geology at the Witte Museum. "'Predators vs. Prey' gives visitors the opportunity to learn about the strategies and adaptations that existed in these ancient ecosystems."
Along with animatronic dinosaurs, numerous replicas and real dinosaur fossils will provide some of the evidence of how we know which dinosaurs once lived on the land that we now call Texas. These fossil discoveries are rare and special occurrences, having been found in relatively few areas of Texas. Visitors will also engage with hands-on interactive elements for all ages. Augmented reality applications will give visitors control of 3D animated versions of the dinosaurs, while digital animations show the strategies employed by the hunter and the hunted. Children will be able to pick up a brush and become a paleontologist and unearth their own dinosaur fossil and learn what happens after fossils are uncovered.
"Predators vs. Prey: Dinosaurs on the Land" Before Texas opens May 26 following the 7th Annual Dino Dash. Opening day will be full of fun demonstrations and activities perfect for the whole family.
Enjoy the full Witte Museum experience for only $22 with an Adventure Pass. Explore "Predators vs. Prey: Dinosaurs on the Land Before Texas" and "Confluence and Culture: 300 Years of San Antonio History" at any time during your visit. Tickets are available for purchase at www.WitteMuseum.org or at the Sally and Ganahl Walker Admissions Desk.
The Witte will offer public programs throughout the run of "Predators vs. Prey: Dinosaurs on the Land Before Texas." The museum is proud to present a 'Super Saturday: Predators vs. Prey' on June 9 from Noon – 4:00 p.m. additionally, a "Cocktails and Culture: Rex's Revenge" on June 28 and "Cocktails and Culture: Bones and Booze" on August 30 from 6:30 p.m. - 8:30 p.m. For more information or to purchase tickets call 210.357.1900 or visit www.WitteMuseum.org.
"Predators vs. Prey: Dinosaurs on the Land Before Texas" is presented by the Naylor Family and is generously supported by Bolner's Fiesta Products, de la Garza Fence co and the supported by the City of San Antonio Department of Arts and Culture.
Source: Witte Museum
Share:
---
Categories: Non Profit
Tags: dinosaurs, museum, paleontology, summer
---