World First Safety Device to Combat Michigan's Violence Ranking
Press Release
•
updated: Nov 27, 2018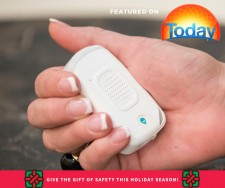 DETROIT, November 27, 2018 (Newswire.com) - "Detroit's recent listing by the FBI as the second most violent big city in the U.S.* should give its citizens a wakeup call," says entrepreneur Stephenie Rodriguez, who launched a world first safety device and smartphone application to empower those who feel vulnerable when commuting or traveling. "When you also consider Michigan has a further three cities in the top ten most dangerous cities for women**, something has to be done about it and until that day comes, you need to take responsibility for your own personal safety. I believe the best way to do this is with a non-violent solution."
"I have traveled to more than half the 50 states and to 54 countries. I know what it feels like to be in danger. This anxiety motivated me to invent the WanderSafe Smart 1, a non-violent device the size of a key ring that pairs seamlessly with a smartphone app and puts help in your hand."
I have travelled to more than half the 50 states and to 54 countries. I know what it feels like to be in danger. This anxiety motivated me to invent WanderSafe Smart 1, a non-violent device the size of a key ring that pairs seamlessly with a smartphone app and puts help in your hand.

Stephenie Rodriguez, WanderSafe Inventor and CEO
Created in collaboration with retired CIA executive and author, Thomas Pecora, WanderSafe Smart 1 incorporates the three characteristics that Pecora says will heighten your safety: information, environmental awareness and easy-to-use equipment.
The non-violent device's four features are designed to disorient and scare an assailant, giving you enough time to save your life. Designed for easy handling, when pressed, the activation button sends an SOS message and GPS coordinates to three friends or colleagues to take action and can be activated with a pinkie. Also incorporated in the device is a patent-pending twist to activate the 140-decibel personal alarm, a piercing strobe light to disorient the assailant, and a wide blinding lumen light for lighting up a potentially unsafe situation.
Pecora's two decades of experience with the CIA saw him deployed to terrorist hot spots around the world. "One of our main focuses was the safety of our employees, and real-time information was always key. That's why a soon-to-be-released WanderSafe update will provide users with real-time safety info curated to the user's needs, as well as useful and location relevant travel tips."
This software update will see WanderSafe analyzing data from trusted sources such as law enforcement agencies. Also in development is a report feature whereby users can report crimes or illicit activity anonymously to CrimeStoppers. This feature comes on the back of WanderSafe signing a three-year partnership with CrimeStoppers International, which was solidified at The Hague in October 2018.
WanderSafe Smart 1 is also a welcome security device for employers who have a duty of care towards the safety of their employees, with child care centers and real estate/property management firms flocking to purchase devices for their staff from Canada to Australia.
"The Real Estate industry has been grappling with this challenge for a number of years," said Vantage Strata Managing Director, Chris Miller. "This problem has been well-publicized in the context of property managers, often young women, who attend routine inspections with people who are unknown to them. I bought one for my entire staff."
The device retails for $79.95. It is available to buy now for $40 on the Indiegogo platform with immediate delivery in time for holiday gifting.
MEDIA INFO: Drew Lambert or Zac Cooper | DL COMMS | contactus@dlcomms.com.au | +612 8091 4400
IMAGES: http://www.dlcomms.com.au/wandersafe-presskit
* FBI's 2017 Uniform Crime Report
** Forbes: America's most dangerous cities for women
Source: WanderSafe LTD
Related Media
Additional Links