WorkVine209 Coworking Space Set to Call Tracy Home
Work Hard. Have Fun. Make a Difference.
Press Release
-
updated: Sep 10, 2019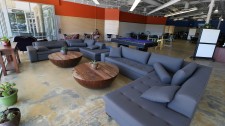 TRACY, Calif., September 10, 2019 (Newswire.com) - WorkVine209 is excited to announce Tracy's newest and largest coworking space at 1005 E. Pescadero Road, Ste. 167, Tracy, California. With commutes to and from the Bay Area taking as many as three to five hours daily, WorkVine209 is a solution to an immediate problem in their communities, by providing high-quality coworking space in the communities they live in and return them to an acceptable work-life balance. In turn, this will help build sustainable businesses and a stronger community.
Eric and Lynda Hawkins have served the needs of the community for many years. They are the founders of Uneed2, a nonprofit providing computer training and workforce opportunities. Recognizing the insane commutes of many residents who are forced to work in the Bay Area for good-paying jobs, they decided to expand their business into the for-profit sector to address and solve these challenges. WorkVine209 is the solution to the community's current commute issues that are robbing so many citizens from family life and even their health. They provide networking, meetups, various training and education for a variety of businesses and individuals. Eric Hawkins said, "They will help Bay Area businesses expand and grow in an affordable community that already has a large number of technology commuters and who will eventually desire to work closer home." Adding to the excitement is WorkVine209's future intent to develop and provide the highly skilled workforce that companies expanding or moving into the community need.
WorkVine209's individual and corporate memberships allow them to walk in the door on day one, plug in and go to work in a state-of-the-art environment with reliable connections and technology requirements. The single-level, 10,000-square-foot office offers a space for up to 100 people to work each day. WorkVine209 offers several workspace options. Located in their open area are fixed desks and sit/stand desk that can be rented daily or monthly. There are ample amounts of seating to fit one's needs and work style. In the shared workspace environment, they can accommodate large business events up to 100 people and two phone booths for private calling. The conference and meeting rooms accommodate up to 20 people. Play and relaxation help stimulate new ideas and refocus one's work, so WorkVine209 added a pool table, ping pong table, ice hockey and two massage chairs for members only.
WorkVine209 is working to become the catalyst for the Central Valley by offering in-house educational programs, including Entrepreneur Labs, Business Leadership and Development training and a whole host of services and connections necessary to the success of its members and organizations. 
WorkVine209 is open now, so for information on how you can become a part of a great business community, call 209-650-6925 or email us info@workvine209.com. They are also online at www.workvine209.
Source: WorkVine209
Share:
---
Categories: Business Development
Tags: Coworking, entrepreneurs, offices, shared workspace, space, spaces
---