Working Together to Clean Up the City
Press Release
•
updated: Aug 10, 2017
Scientology Volunteer Ministers joined with community groups in a massive cleanup of the North Greenwood neighborhood of Clearwater, Florida.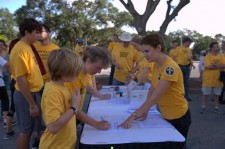 CLEARWATER, Fla., August 10, 2017 (Newswire.com) - In the latest of a series of monthly cleanups of Clearwater's North Greenwood neighborhood, more than 300 yellow T-shirted Scientology Volunteer Ministers joined other concerned residents at the Martin Luther King Jr. Community Center to launch into the day's activities.
Teams were set up with grabbers, trash bags and gloves, and pickup trucks carried away the results of the cleanup.
More than 140 trash bags were filled and disposed of along with 15 tires, nine couches, 11 TV sets, 18 mattresses, and many other items collected up from the area.
Glendy Goodsell, Executive Director of the Scientology Volunteer Ministers Florida Chapter, organized the manpower for this massive cleanup. She tells why she took on the weekly Volunteer Minister cleanups of the neighborhood. "Local police have alerted us to the lowered crime rates in neighborhoods that carry out these kinds of activities," she said. "This was certainly worth supporting, so we put together a team of volunteers willing to dedicate their Saturday mornings to this action."
The Scientology Volunteer Minister Center opened two years ago to provide indiscriminate help to the community. Volunteer Ministers live by the motto that no matter the challenge, "Something can be done about it."
Source: ScientologyNews.org
Related Media