Working Solutions Chief Executive Kim Houlne Featured on KERA
Press Release
•
Oct 5, 2016
U.S. Business Marks 20-Year Milestone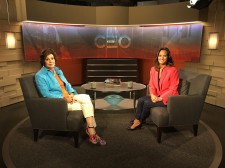 Plano, TX, October 5, 2016 (Newswire.com) - ​Working Solutions chief executive Kim Houlne will be featured on KERA's CEO series as the company celebrates 20 years of leadership in on-demand workforce services.
Houlne will be spotlighted at 7:30 p.m. Oct. 7 in an interview with Lee Cullum, CEO host. "Lee has profiled some of the most innovative and respected Dallas/Ft. Worth business leaders. I am honored to be among them."
The interview will air again at noon Oct. 9 and 10:30 p.m. Oct. 10. It also will be broadcast on radio at 5 p.m. Oct. 9.
Well-timed Opportunity
"The timing is particularly appropriate," said Houlne, who founded the company on Oct. 2, 1996, in Omaha, Nebraska. There, she turned an idea into an industry, pioneering virtual business process outsourcing (BPO).
"This month, we celebrate two decades of service to hundreds of clients and millions of their customers."
Houlne launched Working Solutions as commercialization of the Internet began. From scratch, she built her contact center services company into one of the world's largest remote workforces, with 110,000+ independent agents registered across America.
Recognized by FlexJobs as a leader in work-at-home opportunities, Plano-based Working Solutions provides virtual call center services for customer care, sales and technical support across diverse industries.
Homeshore Talent
Twenty years in this industry offers real perspective, observed Houlne, a champion of the work-at-home model and an advocate for American workers.
"As more companies outsourced their call center and contact center services near shore or offshore, we stayed true to talent here in the U.S.," she said. "In all 50 states, we found —and continue to find — great, on-demand agents with the best skills and experience to fulfill client needs.
"So today, when people point out that businesses are returning to the U.S. for quality workers, I just smile and say: 'We never left.'"
About Working Solutions
With 20 years of success, Working Solutions is a recognized leader in home-based contact center solutions.
The company's on-demand workforce includes sales, customer service and technical experts with 110,000+ agents registered nationwide. They deliver fast-flex business process outsourcing (BPO) services for clients and their customers across diverse industries, such as healthcare, retail, travel and hospitality.
Source: Working Solutions