Work4 Launches a New Service Helping Companies Source Qualified Candidates
Press Release
-
updated: Jan 11, 2018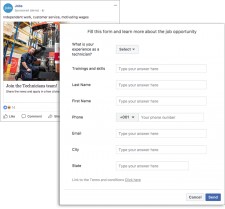 San Francisco, Calif., January 11, 2018 (Newswire.com) - Work4, the global leader in Facebook recruitment, has just announced the launch of its new service CQA (Certified Quality Applicant), designed to help companies measure and increase their candidate's qualification level. Leading companies in the Banking and Insurance industries have already praised the service: CQA has helped them increase their candidate qualification by 48% when recruiting customer support and financial advisors.  
"Digitizing the employment market has enabled organizations to boost their visibility, simplify their end-to-end application process, and to reduce a significant portion of their recruiting costs. It has caused a new influx of applications recruiters have to work on, since job postings are accessible to a wider pool of candidates." attests Etienne Dargnies, CEO at Work4.
A recent source from Glassdoor testifies: there has been a dramatic increase in the number of applications sent per job opportunity in 2017 - an average of 250 applications per job.
Work4's new service aims at making the recruitment marketing process flow more fluidly, notably by accelerating the recruitment process and allowing recruiters to work only on qualified applicants. CQA makes it possible with its unique technology combining Facebook's audience targeting, and an optimized applicant process.
CQA (Certified Quality Applicant): How does it work?
In practical terms, audience targeting enables recruiters to display their job opportunities only to candidates matching their criteria, which optimizes their budget and their employer brand.  When candidates click on the ad they are redirected to an apply form, mostly composed of yes/no questions, and addressing the necessary qualifying criteria. The forms are then processed by Work4's sorting algorithm which identifies pre-qualified applications and sends them to a designated recruiter who now has enough time to focus on the qualitative aspect of the hiring process.
Guillaume Laguette, Marketing Director at Work4, concludes: "It is an absolute necessity for companies to keep innovating in order to outpace competition, and to recruit top talent as efficiently as possible. Today, this is a service only offered by staffing companies and it is far too expensive to scale for the volume of applies."
As a global leader for Facebook recruitment, Work4 enables more than 700 companies to attract and recruit their future talent on the #1 social media platform in the United States.
Thanks to Work4's solutions, customers can use Facebook as a powerful recruiting platform by leveraging our unique technologies to promote their open requisitions in the biggest American candidate pool. Tailor-made targeting is available to reach the right candidates for the right positions, and eventually recruit the most qualified candidates. Since 2010, Work4 has quickly become a global leader in the French and US recruitment advertising market thanks to its pioneering products, partnerships with Facebook and Twitter, and internationally-renowned investor support from Matrix Partners and Serena Capital.
Source: Work4
Share:
---
Categories: Corporate Communications, Saas (Software as Service), Social Media
Tags: advertising, algorithm, application process, employment, Facebook, HR, recruitment, SaaS, social media, software, sourcing
---