WoodWorks Announces Winners of Its 2023 U.S. Wood Design Awards
Press Release
•
Mar 27, 2023
Awards Recognize Teams Driving Innovation in Wood Building Design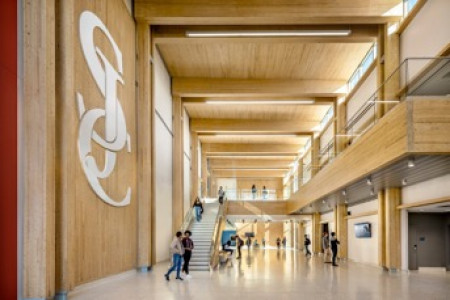 WASHINGTON, March 27, 2023 (Newswire.com) - WoodWorks - Wood Products Council has announced its 2023 Wood Design Awards winners, celebrating excellence and innovation in mass timber, heavy timber, light-frame, and hybrid building design. The annual award program charts wood's growth as a material of choice and recognizes developers and design teams whose creativity and emphasis on quality continue to expand the possibilities for wood buildings.
"Investing in a more sustainable future deserves to be recognized. It's an honor to celebrate design teams that inspire the broader AEC community by challenging the expectations of modern design and construction. This year's winning projects represent the work of building designers from across the nation who are demonstrating the incredible potential of wood," said WoodWorks President and CEO, Jennifer Cover. "From 19 stories of CLT and glulam towering over the Milwaukee skyline to wooden reflectors enhancing acoustics in a Colorado theater, these projects underscore how wood enriches the physical landscape of our communities and the experience of those who inhabit them."
Nominations were evaluated by an independent jury that included:
Corey Martin, Principal, Hacker Architects, Portland, Oregon
Cheung Chan, Associate and Architect, Neumann Monson Architects, Iowa City, Iowa
Lauren Wingo, Senior Structural Engineer, Arup, Washington, DC
National award categories include:
Commercial Wood Design - Mid-Rise
Commercial Wood Design - Low-Rise
Wood in Schools
Multi-Family Wood Design
Wood in Government Buildings
Institutional Wood Design
Sustainable Wood Design
Beauty of Wood
Durable & Adaptable Wood Structures
Innovation
Follow the links below for information on each project or view the full gallery of winners here.
Photographs of each winning project can be viewed and downloaded for media use here, along with a Word file that includes brief write-ups and photo credits.
You can also find all projects and team members on the WoodWorks Innovation Network.
National Winners
Commercial Wood Design - Mid-Rise: Mississippi Workshop | Portland, Oregon
Developer/Architect: Waechter Architecture
Structural engineer: KPFF Consulting Engineers
Contractors: Waechter Architecture; Owen Gabbert; Cutwater PDX
Commercial Wood Design - Low-Rise: High Tech Client Campus | Mountain View, California
Architect: WRNS Studio
Structural engineer: Holmes
Contractor: Rudolph and Sletten
Wood in Schools: San Jacinto College Anderson-Ball Classroom Building | Pasadena, Texas
Architect: Kirksey Architecture
Structural engineer: Walter P Moore
Owner: San Jacinto College
Contractor: Tellepsen
Multi-Family Wood Design: Central Lofts | Portland, Oregon
Architect: Jones Architecture
Structural engineer: Froelich Engineers
Developer: BlackRock Development and Real Estate
Contractor: R&H Construction
Wood in Government Buildings: Winthrop Library | Winthrop, Washington
Architect: Johnston Architects
Associate Architect: Prentiss Balance; Prentiss Balance Wickline
Structural engineer: Methow Engineering
Owner: Friends of the Winthrop Library
Contractor: Impel Construction
Institutional Wood Design: Locust Grove Event Pavilion | Louisville, Kentucky
Architect: de Leon & Primmer Architecture Workshop
Structural engineer: Structural Services
Owner: Locust Grove
Contractor: Woodbine Construction
Sustainable Wood Design: The Ecology School | Saco, Maine
Architects: Simons Architects; Kaplan Thompson; Briburn Architecture
Structural engineer: Thornton Tomasetti
Owner: The Ecology School
Contractor: Zachau Construction
Beauty of Wood: Patricia Reser Center for the Arts | Beaverton, Oregon
Architect: Opsis Architecture
Structural engineer: KPFF Consulting Engineers
Owner: City of Beaverton
Contractor: Skanska
Durable and Adaptable Wood Structures: Maclac Building D | San Francisco, California
Architects: Marcy Wong Donn Logan Architects; Peter Logan Architecture and Design (PLAD)
Structural engineer: Gregory P. Luth & Associates
Developer: Comstock Realty Partners
Contractor: Rod Heisler Construction
Innovation: Ascent | Milwaukee, WI
Architect: Korb + Associates Architects
Structural engineer: Thornton Tomasetti
Developers: New Land Enterprises; Weichmann Enterprises
Contractors: C.D. Smith, Catalyst Construction
Regional Excellence Winners
INTRO | Cleveland, Ohio
Architect: Hartshorne Plunkard Architecture
Structural engineer: Forefront Structural Engineers
Developer: Harbor Bay Ventures
Contractor: Panzica Construction
Idaho Central Credit Union Arena | Moscow, Idaho
Architect: Opsis Architecture; Hastings+Chivetta Architects
Structural engineer: StructureCraft (roof structure); KPFF Consulting Engineers (base building)
Owner: University of Idaho
Contractor: Hoffman Construction
1030 Music Row | Nashville, Tennessee
Architect: Anecdote Architectural Experiences
Structural engineer: StructureCraft
Developer: Panattoni Development Company
Contractor: Turner Construction
80 M Street | Washington, DC
Architect: Hickok Cole
Structural engineer: Arup
Developer: Columbia Property Trust
Contractor: James G. Davis Construction
Chemeketa Community College Agricultural Complex | Salem, Oregon
Architect: FFA Architecture and Interiors
Structural engineer: KPFF Consulting Engineers
Owner: Chemeketa Community College
Contractor: Swinerton Builders
Wellesley College Science Complex | Wellesley, Massachusetts
Architect: Skidmore, Owings & Merrill
Structural engineer: Le Messurier
Owner: Wellesley College
Contractor: Turner Construction
Kansas City Current Training Facility | Riverside, Missouri
Architect: Generator Studio
Structural engineer: Apex Engineers
Owner: Kansas City Current
Contractor: Monarch Build
Nanotronics Smart Factory | Brooklyn, New York
Architect: Rogers Partners
Structural engineer: Silman
Owner: Nanotronics Imaging
Contractor: Eurostruct
Houston Endowment Headquarters | Houston, Texas
Architect: Kevin Daly Architects; Productura
Structural engineer: Arup
Owner: Houston Endowment
Contractor: WS Bellows
Ellis Golf Course Clubhouse | Cedar Rapids, Iowa
Architect: OPN Architects
Structural engineer: Structural Design Group
Owner: City of Cedar Rapids
Contractor: Septagon Construction
Crested Butte Center for the Arts | Crested Butte, Colorado
Architects: Steinberg Hart; Andrew Hadley Architect
Structural engineer: Resource Engineering Group
Owner: Center for the Arts
Contractor: Black Dragon Development
316 12th Street | Oakland, California
Developer/Architect/Contractor: oWOW
Structural engineer: Altos Structural Engineering
END
Source: WoodWorks - Wood Products Council