WoodWorks Announces 2018 Wood Design Award Winners
Press Release
•
updated: Feb 19, 2018
Celebrating excellence in commercial and multi-family wood building design.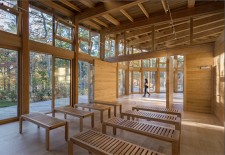 Washington, D.C., February 19, 2018 (Newswire.com) - ​​​​​​​​​​​​​​​​​​​WoodWorks – Wood Products Council has announced the winners of its 2018 Wood Design Awards, which celebrate excellence in wood building design across the U.S. Awards are an opportunity to recognize leaders in the field, and to showcase buildings that exemplify the attributes of wood that make it so appealing.
"It's always interesting to consider what the winning projects say about the state of wood design," said Jennifer Cover, WoodWorks' President and CEO. "Part of that is understanding what drove the design teams to choose wood. Warmth, sustainability and cost are mentioned fairly consistently and 2018 was no exception. But comments this year also emphasized structural performance, the desire to create healthy, resilient and engaging structures, energy efficiency, meeting challenges of scale, and flexible spaces that can be adapted as needs change. It's exciting to see examples of innovative systems and technologies, but this year's projects are a reminder of the many reasons building designers gravitate to wood."
National award categories include:
Commercial Wood Design – Low-Rise
Commercial Wood Design – Mid-Rise
Wood in Government Buildings
Multi-Family Wood Design
Wood in Schools
Institutional Wood Design
Green Building with Wood
Beauty of Wood
Durable & Adaptable Wood Structures
Jury's Choice – Innovation
Projects were selected by an independent jury that included:
Kathryn Bedette, AIA, Associate Professor of Architecture, Kennesaw State University
Tenna Florian, AIA, LEED AP BD+C, Associate Partner, Lake|Flato Architects
Amado Guevara III, AIA NCARB, Architect and Associate, DLR Group
Chosen from more than 160 nominations, the awards will be presented at Wood Solutions Fairs across the country, beginning with the Central Florida Wood Solutions Fair in Orlando on February 21. Seven projects will also receive Regional Excellence Awards.
National Winners
Jury's Choice for Wood Innovation: John W. Olver Design Building at UMass Amherst • Amherst, MA
ARCHITECT: Leers Weinzapfel Associates
STRUCTURAL ENGINEER: Equilibrium Consulting and Simpson Gumpertz & Heger (EOR)
CONTRACTOR: Suffolk
Commercial Wood Design – Low-Rise: Washington Fruit & Produce Company • Yakima, WA
ARCHITECT: Graham Baba Architects
STRUCTURAL ENGINEER: M.A. Wright, LLC
CONTRACTOR: Artisan Construction
Commercial Wood Design – Mid-Rise: The Grove at Live Oak Bank • Wilmington, NC
ARCHITECT: LS3P Associates
STRUCTURAL ENGINEER: Woods Engineering
CONTRACTOR: Clancy & Theys Construction
Wood in Government Buildings: Walden Pond Visitor Center • Concord, MA
ARCHITECT: Maryann Thompson Architects
STRUCTURAL ENGINEER: RSE Associates Inc.
CONTRACTOR: Stutman Contracting Inc.
Multi-Family Wood Design: Lofts at Mayo Park • Rochester, MN
ARCHITECT: Snow Kreilich Architects
STRUCTURAL ENGINEER: Meyer Borgman Johnson
CONTRACTOR: Welsh Construction
Wood in Schools: Oregon Episcopal School – Lower School • Portland, OR
ARCHITECT: Hacker
STRUCTURAL ENGINEER: ABHT Structural Engineers
CONTRACTOR: Skanska
Institutional Wood Design: Basecamp Delta • Summit Bechtel Reserve, WV
ARCHITECT: DIGSAU Architecture
STRUCTURAL ENGINEER: CVM
CONTRACTOR: Swope Construction
Green Building with Wood: Patrons Oxford Insurance Offices • Portland, ME
ARCHITECT: Scott Simons Architects
STRUCTURAL ENGINEER: Becker Structural Engineers
CONTRACTOR: Zachau Construction Inc.
Beauty of Wood: Cultural Crossing at Portland Japanese Garden • Portland, OR
ARCHITECT: Hacker with Kengo Kuma and Associates
STRUCTURAL ENGINEER: KPFF
CONTRACTOR: Hoffman Construction Co.
Durable & Adaptable Wood Structures: Painter Barn at Tyler Arboretum • Media, PA
ARCHITECT: Archer & Buchanan Architecture, Ltd.
STRUCTURAL ENGINEER: CVM
CONTRACTOR: CVMNext
Regional Excellence Winners
L'Angolo Estate • Newberg, OR
ARCHITECT: LEVER Architecture
STRUCTURAL ENGINEER: Schutte Consulting Engineers
CONTRACTOR: Schommer & Sons
The Loading Dock • Boulder, CO
ARCHITECT: OZ Architecture
STRUCTURAL ENGINEER: KL&A
CONTRACTOR: Quinlan Construction
GROW at Saint Louis Science Center • St. Louis, MO
ARCHITECT: Arcturis with Gyo Obata
STRUCTURAL ENGINEER: EDM Incorporated
CONTRACTOR: Interface Construction Corporation
Bronzeville Artist Lofts • Chicago, IL
ARCHITECT: Wrap Architecture
STRUCTURAL ENGINEER: Joseph Farruggia
CONTRACTOR: Madison Construction
New College House • Philadelphia, PA
ARCHITECT: Bohlin Cywinski Jackson
STRUCTURAL ENGINEER: CVM
CONTRACTOR: Intech Construction
State of Massachusetts Public-Use Airport Buildings • Beverly, MA
ARCHITECT: Fennick McCredie Architecture
STRUCTURAL ENGINEER: ARUP
CONTRACTOR: CMGC Building Corp.
Duke University Student Wellness Center Lobby • Durham, NC
ARCHITECT: Duda|Paine Architects, PA
STRUCTURAL ENGINEER: Stewart, Inc.
CONTRACTOR: Gilbane Building Company
Photos and descriptions of the winning projects are available in the WoodWorks project gallery. High resolution images are available on request.
About WoodWorks
WoodWorks – Wood Products Council (www.woodworks.org) provides free one-on-one project assistance as well as education and resources related to the code-compliant design of commercial and multi-family wood buildings. WoodWorks field teams have expertise in a wide range of building types, including multi-family/mixed-use, educational, office, commercial low-rise, industrial, civic/recreational, institutional/healthcare and government. We make it easier to design, engineer and construct wood buildings at less cost.
###
Source: WoodWorks - Wood Products Council
Related Media