Women Nation to Host Its Second Entrepreneur Networking Event in Manchester on Feb. 28
Press Release
-
updated: Jan 26, 2018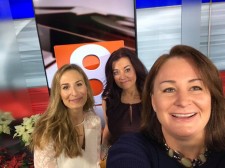 Burlington, CT, January 26, 2018 (Newswire.com) - Women Nation, a business that showcases women as economic powerhouses by promoting their businesses and much more, will be hosting its second Women Nation Night Networking Event on Wednesday, Feb. 28 from 6 to 8 p.m. at The Hilliard Mills, located at 642 Hilliard Street in Manchester.
"Drawing on an outstanding experience in December, we are pleased to offer our second Women Nation night on Feb. 28," said Kim Estep, President of Women Nation. "We invite all women in business to stop by the event and introduce themselves to us and the other members. Together, we're on a journey to bring women's empowerment into the limelight. We hope you'll join us and tell us your story."
Women Nation Night is much different than most networking events. In addition to networking with business owners and entrepreneurs, there will be catered food and drinks, live music and the ability to shop from local vendors.
The Women Nation Night event on Feb. 28 will be hosted by KiSSandMaKeUp, Simply K Studios and Nightingale Events. It will be catered by Manchester's Brown Sugar Catering and the music will be provided by DJ Stephanie Rivkin from Royal Beats.
The cost for this event is $20 and people can obtain tickets by going to WomenNation.com or the Women Nation Facebook page at Facebook.com/thewomennation. In addition, there will be a gift bag for the first 25 attendees.
"I am very excited to watch our amazing community of women communicate and do business with each other," said Shari Melillo, Vice President of Women Nation. "This is exactly what I was hoping for when I founded Women Nation."
Women Nation was formed to get women face-to-face, promote their services and products, share business stories and help women business owners get the recognition they deserve.
Bringing vendors, entrepreneurs, business leaders and the community together during Women Nation Night events, women with similar business experiences or looking to gain an edge with their new business have the opportunity to chat with each other to discuss business ideas, network, gain valuable insight and information, and learn about the efforts women can take to help other women succeed.
"I love designing pages for our Women Nation members," said Rachel Bassett, Creative Director for Women Nation. "It helps me connect with each member. Seeing them in person after creating these pages makes me feel like I already know them. I am looking forward to the event in February so that way I can see all these wonderful women."
For more information on Women Nation Night, or on the organization overall, visit our website at Womennation.com or call 833-273-8439. Women Nation also has a presence on social media. Like us on our Facebook page at /TheWomenNation, follow Women Nation on Twitter at @WomenNation and join us on Instagram at @TheWomenNation.
Source: Women Nation
Share:
---
Categories: Multi-Media, Artists, Conventions, Trade Shows, Meetings and Events, Hobbies and Crafts
Tags: Community, Women, Women Entrepreneurs, Women Nation, Women Nation Launched, Women Owned Business, Women Support
---