Women in Travel Industry Fighting Pay-Disparity
Lookupfare Supports 'Equal Work + Equal opportunities = EQUAL PAY FOR WOMEN'
Press Release
-
updated: Mar 3, 2017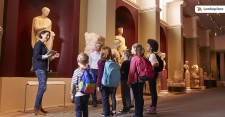 Cleveland, United States, March 3, 2017 (Newswire.com) - In the year 2016 when former Secretary of State Hillary Clinton was running for U.S Presidential Election, she revived the crucial issue of 'Gender Gap.' If specifics were to be given for the same, here it refers to the real pay-disparity conundrum that women face in every sector of work, despite being a major human resource. If we were to speak of just the Travel and Hospitality industry, it comprises 60-65% of women as the active workforce, particularly since the last decade. It is also not new to know that the majority of employed women are sole breadwinners of the family.  And yet, they have been imperiled to a significant inequality concerning opportunities at work, pay offered and a fair shot at climbing the career ladder.
Since decades women around the globe have been given the status of a second-class citizen and have been oppressed time and again in male-dominated spaces. One arena where women constantly have been facing massive imbalance is in the workplace. According to surveys across various sectors and principally speaking of the Travel Industry, women are greatly employed in the sector. However, the growth possibility is very scarce for them, let alone the issue of proffering lesser salary to them against their male counterparts. The scenario has considerably improved over the last 7-8 years, and several steps in development towards this concern have been made. Despite of heavy advocacy that the issue has garnered, the problem remains intact. It might not be 60-65% but the inequality has stagnated at whopping 24-26% as of latest.
Found in the year 2014, an organization known as 'Women In Travel' (WINIT) was launched by Michelle "MICK" Lee who had started WINIT to promote the women who had given significant contributions to the Travel industry. It mainly aimed at providing an array of tools and resources to women working in Travel and also to introduce them to the career evolving opportunities. Michelle, after being in the industry for over 30 years, observed that only a handful of women held managerial or the high-end executive posts, despite the fact that women make most of the travel-buying decisions and happen to be the prime consumers.
There are several other 'All-Women' organizations and initiatives around the globe which are working hard to fill this gender-gap in travel. For example: The 'Chobe Angels' at the Chobe Game Lodge in Botswana, an all-female safari guide group in Africa! Tricia Barnett, The director of a consultancy working towards curbing the gender-gap in Travel sums it in the best possible manner- "Gender equality is the forgotten ingredient in sustainable tourism. Whether it's getting more women into the boardrooms or improving lives for vendors, tour guides or chambermaids at the grassroots level, there's much more to be done".
Gearing up to celebrate 2017's motto #BeBoldForChange, as an after-wave for 2016's pay-parity, Lookupfare hoots for equal opportunities, equal pay and the bold avatar of today's women who settle for nothing less. Among organizations with very few OTAs with a female head, Lookupfare has a significant percentage of womenfolk in the leading positions in different departments as well, as it believes in taking progressive strides. Lookupfare not only pushes for fair deals at competitive prices but also dispenses offers that are women centric, both in terms of fare and travel safety. Associate yourself with us. Visit the website, follow on Social media channels and stay updated! We say: Fly with Empowerment!
Source: Lookupfare
Share:
---
Categories: Travel, Air Travel, Family Travel
Tags: flights Deals, flights tickets, low-cost airlines, Major Airline Tickets, Women Travels
---