Women in the Arts & Media Coalition Holds 2015 Collaboration Awards Gala
Press Release
•
Oct 20, 2015
Sirius XM Stars THE MOMS, Denise Albert and Melissa Gerstein, Announced as Keynotes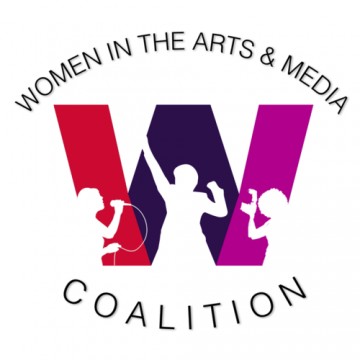 New York, NY, October 20, 2015 (Newswire.com) - ​The Women in the Arts & Media Coalition announced today that the keynote speakers at their annual Collaboration Awards Gala will be Sirius XM Stars THE MOMS, Denise Albert and Melissa Gerstein. The Collaboration Awards recognize women in the arts and media who successfully collaborate across disciplines to create new and influential work. This, the fifth annual Collaboration Awards Gala, will be held Sunday, October 25, 2015.
The 2015 Collaboration Award winners are playwright T.D. Mitchell and director Sheryl Kaller for the project QUEENS FOR A YEAR. The award will be presented by Casey McLain and Amy Rose Marsh of Samuel French, Co-Artistic Directors of the Samuel French OOB Festival. Hosts of the event are current and past Co-Presidents of the Women in the Arts & Media Coalition, Shellen Lubin, Leslie Shreve, and Avis Boone.
"It is my hope that your collaborations continue to tell stories that must be told and inspire change in our communities."

Kirsten Gillibrand, U.S. Senator (D-NY)
Collaboration Award winner T.D. Mitchell is an award winning writer based in Brooklyn. Her work as a playwright (Beyond the 17th Parallel), writer-producer for television (Army Wives), speechwriter (for International NGOs), short story writer (Verbal Supply Company) and currently, author of a nonfiction book (a biography, in progress) proves her passion for storytelling crosses forms and formats.
Sheryl Kaller just directed WHILE I YET LIVE by Billy Porter at Primary Stages and Terence McNally's Tony nominated Broadway play, MOTHERS AND SONS, starring Tyne Daly. Ms. Kaller received a Tony Nomination for Best Director for the Broadway production of NEXT FALL by Geoffrey Nauffts. She has directed at many major theatres.
QUEENS FOR A YEAR, Mitchell and Kaller's 2015 Collaboration Award winning play, addresses critical questions about women in the military through a beautiful study of four generations of a family: does a woman have to sacrifice what is female and assume a male attitude to succeed in a male-dominated warrior culture? Is there any "good" place for women trained in combat, in violence, in war, within our society? Is it moral to put women into a career where the greatest danger is from her fellow (male) coworkers, rather than "the enemy"? At what price do we put women into a subculture whose language denigrates anything female? And what about women's unsung role as the clean-up crew for men harmed in war?
New York Senator Kirsten Gillibrand commended QUEENS FOR A YEAR for "telling this difficult story and shedding a light on women in the military." She added to all the collaborators being honored, "It is my hope that your collaborations continue to tell stories that must be told and inspire change in our communities."
The Collaboration Awards encourage professional women in the arts and media from different specializations to work collaboratively on the creation of new work. The award recognizes the best of these collaborations. Awarded every second year, the Collaboration Award goes to one winning project (and its two creators). This year there are also three Honored Finalist projects and teams, and four additional Finalist projects and creator teams. 2015 marks the fifth time these awards have been given. The Collaborative Awards Gala is a celebration of the awards and an evening to enable the public to meet and hear from the award-winning teams, learn about their collaborations, and hear from industry-leading women about important contributions women are making in the many disciplines of the performing arts.
"The time is right for the voices and visions of women—women of different disciplines and diverse backgrounds—to be given greater exposure and acclaim," says Shellen Lubin, Co-President of the Women in the Arts & Media Coalition, "and this award has always honored some of the most beautiful, profound, and challenging work that professional women are creating together."
"There were so many wonderful works to consider for this years' award," says Leslie Shreve, Co-President of the Coalition. "It's always difficult to choose a single outstanding piece, but that's a great problem to have—and we're always excited to see the powerful and thought-provoking pieces that are submitted every award cycle."
The Honored Finalists for the Collaboration Award are:
EVERY FOLD MATTERS (playwright Lizzie

Olesker

and performance artist Lynne Sachs)
SOUTH STREET ANNIE (director Elyse S. Singer and playwright Carson

Kreitzer

)
YELLOW CARD RED CARD (playwright Melisa

Tien

and director

Tamilla

Woodard)
The Finalists are:
ART TAKES SEOUL (artist Mira

Gandy

and playwright/actress

Ahrum

Claiborne)
THE LONELIEST WHALE (filmmaker Lillian

Mehrel

and actress Gabriele Schafer)
ST. JOAN (playwright Julia Pascal and director

Katrin

Hilbe

)
STILL WILL BE HEARD (songwriter/singer Liz

Queler

and director Mindy Cooper)
These artists represent many of the Coalition's member organizations and affiliate organizations: AEA, 802 AFM, DG, ICWP, LPTW, SAG-AFTRA, SDC, WBW, WGAE, WIM, WMC, and WMM.*
The Collaboration Awards Gala will be held on Sunday, October 25, 2015 at 6:00 p.m. at the SVA Beatrice Theater, 333 West 23rd Street, New York City. For tickets, please visit http://collaborationawards.bpt.me
###
About Women in the Arts & Media Coalition
Women in the Arts & Media Coalition, a non-profit organization, represents more than 100,000 women and men in the performing arts and media through its member organizations and affiliates. The Coalition combines its member organizations' abilities and strengths, focusing on issues of concern to women in the arts and media. It is committed to being the link between its member organizations as they collaborate to empower women in the arts, entertainment, and media industries through advocacy, mentoring, networking, and events.
*Member organizations are: Actors' Equity Association (AEA), Associated Musicians of Greater N.Y. Local 802 AFM (802 AFM), Dramatists Guild (DG), League of Professional Theatre Women (LPTW), SAG-AFTRA, Stage Directors and Choreographers (SDC), N.Y. Women in Communications (NYWICI), N.Y. Women in Film & Television (NYWIFT), and the Writers Guild of America, East (WGAE). Affiliates are: WomenArts (WA), Women in Music (WIM), Women Make Movies (WMM), Works by Women (WBW), Women's Media Center (WMC), Dancers Over Forty (DO40), Drama Desk (DD), International Centre for Women Playwrights (ICWP), The Lambs, L.A. Female Playwrights Initiative (LA FPI), National Theatre Conference (NTC), Professional Women Singers Association (PWSA), the Rehearsal Club (RC), and 365 Women a Year (365).
For more information on Women in the Arts & Media Coalition, visit www.womenartsmediacoalition.org.
Related Media