Women Building Women Appoints First Annual Board of Directors
"It was important for us to select board members who were already advocates for women, serving in sectors where we were interested in effecting the most change," says Executive Director and Co-founder of WBW, Karen Gamba.
Press Release
-
updated: May 4, 2021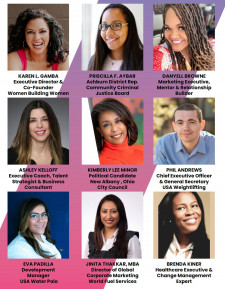 ATLANTA, May 4, 2021 (Newswire.com) - First Annual Board of Directors announced for Women Building Women, a nonprofit that primarily serves transgender women of color, formerly incarcerated women and at-risk males, by connecting them with women mentors to provide educational and career counseling opportunities.
"It was important for us to select board members who were already advocates for women, serving in sectors where we want to effect the most change," says Executive Director, Karen Gamba. "We were also looking for a board with a lot of passion for our cause." added Frank Carlisi, Director of Development.
WBW 2021 Board of Directors:
Jinita Thakkar, MBA - Global Corporate Marketing, World Fuel Services: As a strategic advisor, Jinita has worked with Fortune 500 brands across numerous industries which will serve as a tremendous asset as WBW grows awareness with our corporate partners and community members.
Danyell Browne - Marketing Executive and Relationship Builder: Danyell's passion for helping others dates back to her childhood. "I am passionate about empowering women from all walks of life and giving them the resources needed to achieve their goals."
Ashley Kelloff - Executive Coach, Talent Strategist & Business Consultant: Ashley focuses on creating diverse cultures, that focus on equity and inclusion.
Kimberly Lee Minor - Political Candidate, New Albany City Council: Kimberly is a business owner and creative executive with over 25 years of senior level leadership. On why Kimberly is running for City Council: "New Albany is my home, and I am interested in being a part of New Albany's progress in celebrating our diversity and strategic, inclusive growth."
Phil Andrews - CEO & General Secretary, USA Weightlifting: Phil has established himself as one of the leading sports administrators in the USA. As, CEO of USA Weightlifting, he has transformed the sport's governance and reputation, attracting record participation levels and sponsorship. Born and raised in England before moving to the USA, Phil has a global perspective and a vast array of experience in sport and business.
Priscilla F. Aybar - Ashburn District Representative in Loudoun County: In her most recent role as Digital Director of the Democratic Congressional Campaign Committee, Priscilla spear-headed the largest digital program for committee's Independent Expenditure arm, working on over 40 congressional races. Priscilla has always been a fierce advocate for social justice issues.
Eva Padilla - Development Manager, USA Water Polo: Eva has experience in a variety of fundraising sectors. She believes in the power of generosity and paying it forward. Personally, and professionally, this is the motivating force in her life.
Brenda Kiner - Healthcare Executive: Brenda cares about opportunities and programming for underserved women.
The Women Building Women Board will work on fundraising initiatives to integrate more candidates into mentorship programs at the organization.
Join our mission: www.womenbldgwomen.org
Source: Women Building Women
Share:
---
Categories: Corporate Social Responsibility
Tags: #changethenarrative, #diversity, #education, #empoweringwomen, #inclusion, #mentorship, #women, #womenbuildingwomen
---