WomELLE Second-Hand Store to Support Free Mentoring Program for Women
WomELLE aims to raise $15,000 to support the final development of the nonprofit's second- hand store website and app.
Press Release
-
updated: Feb 23, 2017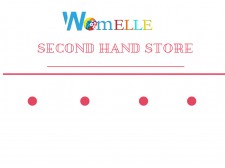 Las Vegas, Nevada, February 23, 2017 (Newswire.com) - WomELLE, a nonprofit organization dedicated to the advancement of women, has launched an online fundraising campaign on Indiegogo to raise $15,000 to complete their thrift store website and app. The second-hand store raises critical funding that allows the organization to provide free mentoring and other programs for women to help them advance in the workforce. WomELLE's community provides the forum for women to come together to share ideas and access mentoring and professional development as well as education, career, and leadership training and networking support.
Once completed, WomELLE's new online shopping website and app will provide a new platform to shop at the organization's thrift store, which sells quality second-hand clothes, shoes, accessories, books and household goods. The store's online access will make shopping easy and convenient for busy parents and others who often do not have the time to shop. The thrift store also provides an opportunity for shoppers to help support the organization's programs through their purchases.
With the website and app, shoppers will be able to shop online and see the items available. It will save unnecessary trips to the brick and mortar store if items are not yet available. If shoppers find something they like via the website and app, they can simply put the item on hold and go to the store to make the purchase and pick it up. Those contributing to WomElle's fundraising campaign will receive a lifetime membership, which allows them to put items on hold for up to 12 hours and receive five percent off every order and 10 percent off on birthdays. All donations are tax deductible.
"This is an important project for our organization, and we are counting on our community to rally behind us," says Naghilia Desravines, CEO of WomELLE. "Our second-hand store is what provides the funding for our programs. WomELLE is dedicated to women and children, and we truly believe that mentoring and learning though others in innovative ways can help women create the plan needed to accomplish a range of strategic goals for the betterment of their lives."
WomELLE's campaign offers a range of funding levels in which supporters can contribute, all with special rewards at each level. For more information on WomELLE's campaign or to contribute to the project and monitor construction of the app, visit https://igg.me/at/womelle. 
About WomELLE
WomELLE is a nonprofit organization dedicated to the advancement of women. The organization positively inspires women to fulfill their potential by providing free mentoring and a thrift store that is available via the website and an app. Funding from the store supports WomELLE's programs. For more information, visit WomELLE.com.
Media Contact
Naghilia Desravines
Phone: 702-747-3054
E-mail: Naghilia@womelle.org        
Source: WomELLE
Share:
---
Categories: Books, Funding, e-Commerce, Non Profit, Fashion and Apparel, E-Commerce and e-Business, Charitable Contributions
Tags: charity, charity fundraising, crowdfunding, free mentoring, indiegogo, Las Vegas thrift store, online clothing store, second hand store, thrift store, WomELLE, women, women clothing store
---