Wiza Named Category Leader in G2 Summer 2020 Report
Press Release
•
updated: Jun 24, 2020
Wiza debuts on review site G2 with awards in multiple categories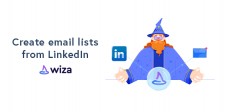 TORONTO, June 24, 2020 (Newswire.com) - Wiza, a sales prospecting tool that turns LinkedIn Sales Navigator searches into lists of verified emails, has been recognized as a Leader in the "Email Verification" category and High Performer for "Sales Intelligence" category by G2's Summer 2020 Report.
G2 is a business product review and ranking platform for verified users to share their experiences and feedback on software and SaaS tools. Rankings are based on how likely users are to recommend the service to others, satisfaction of users and the popularity of the product. For the Summer 2020 report, Wiza received both Leader and High Performer badges with 40 positive reviews.
"As a newer company in the space, we're really proud to be included in this report," said Stephen Hakami, CEO of Wiza. "We've had amazing feedback from our customers since the day we launched, and our G2 rankings reconfirms the importance of a strong user experience in the success of our company. We're really excited about the future of Wiza as we continue to focus on the metrics our users care about: accurate data, ease of use and valid lead emails."
Founded in May 2019, Wiza now has more than 2,000 sales customers around the world.
About Wiza
Wiza is a new breed of sales tools that make LinkedIn lead generation a seamless experience. Wiza's prospecting tool lets sales teams turn their LinkedIn Sales Navigator searches into lists of verified lead emails, ready for outreach.
Stephen Hakami founded the company in 2019 after realizing sales and marketing teams needed a more efficient, personalized way to scale prospecting with LinkedIn Sales Navigator. To help teams achieve ROI, Wiza only charges for valid lead emails with 99% deliverability.
Media Contact:
Brooklin Nash, Head of Content
Source: Wiza.co