Wistia Raises $17 Million to Buyout Investors​
Press Release
•
updated: Jul 18, 2018
Ensures Wistia can continue to be profitable, grow its business and innovate without distraction of VC investors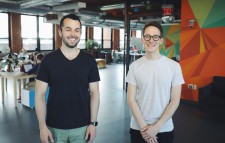 CAMBRIDGE, Mass., July 18, 2018 (Newswire.com) - Wistia, a video software provider for small and medium-sized businesses, today announces it has raised $17.3M in debt to pay back its angel investors, allowing it to remain true to its founders' principles of being creatively-driven, long-lasting, and independent.
"The decision was one of the most important in Wistia's history," said Chris Savage, Chief Executive Officer and Co-founder, Wistia. "Our goal was to realign everyone involved in Wistia on the same vision."
Buying out its investors and sidestepping the booming availability of venture capital, comes after the uncommon entrepreneurial decision of turning down several opportunities to cash out and sell the business — a goal many founders target time after time.
"When we started the company, we hoped to sell it to Facebook in six months," said Chris. "The truth of the matter is, it took us 11 years before some real offers came in. But once they did, the idea of actually selling had become much more complicated."
In its search for an institution that could provide debt under the right terms, Wistia received offers from numerous firms. It chose Accel-KKR, which offered the right amount of debt, great terms, and an approach perfectly aligned with Wistia's vision.
"We are excited to provide financing to Wistia in order for its founders and employees to remain independent and continue to grow the platform and achieve their long-term vision. Accel-KKR is proud to partner with companies that have top performing management teams along with strong underlying financial metrics like Wistia," said Samantha Shows, Principal and Head of Credit Investing at Accel-KKR.
Over the past 12 years, Wistia has only raised $1.4M in angel funding, and with the help of its dedicated team, built a company with a $32M revenue run rate that's grown 40 percent in the last 12 months. By now raising new money in debt financing, the company is able to:
provide a great return to investors that took a huge bet on the business in the early days;
create one class of stock for anyone involved in the company;
ensure shareholder expectations are aligned with the company's mission — if it's not going to sell, it shouldn't give stock options as an incentive.
"We've also flipped the company back to being profitable, which feels amazing," said Chris. "Revenue growth continues to pace strongly and we're growing in the way we love to grow, by thinking long term and taking risks we believe in. Revenue growth has been stronger since we have focused and simplified."
It's a story in stark contrast to those of some of the biggest global tech companies, which have a reliance on raising ever-greater rounds of VC funding to support rapid expansion and unprecedented burn rates that eclipse trends seen during the dot-com boom. To prop up such explosive growth, conversations with investors about new fundraising, or a float on the public markets, takes a founder's time and attention away from their most important task: building a solid, sustainable business, that employees and partners can rely on. This is the Wistia approach.
"We believe that lasting and important businesses are built by staying focused on product, brand, and culture," said Chris. "All things that need time, and care."

Spokespeople images: https://www.dropbox.com/sh/5bqt02hhazprhrw/AABaoBzmrWPsTLxXgDfxbSm5a?dl=0

ends
—
Media contacts
Wistia: wistia@shift6.org
Melissa Tirey, Shift6 for Wistia
+1 646-823-6776
Alexis Dalrymple, Shift6 for Wistia
+44 7462 933 023

Accel-KKR:
Todd Fogarty, KEKST
+1 212-521-4854
todd.fogarty@kekst.com
About Wistia
Wistia is a leading brand of professional video software for small and medium-sized businesses. From video marketing solutions to video creation and editing tools like Soapbox, Wistia's suite of intuitive and powerful products reduces the barrier to better business communication. With Wistia, anyone can create, host, manage, distribute, and analyze great-looking video content that builds human connections, regardless of experience level.
Founded in 2006 in Cambridge, Massachusetts, more than half a million businesses across 50 countries depend on Wistia's products to power more creative and authentic communications, including: HubSpot, MailChimp, Sephora, Starbucks, and Tiffany & Co. Learn more at wistia.com and follow us on Facebook and Twitter.
About Accel-KKR
Accel-KKR is a technology-focused investment firm with $4.3 billion in capital commitments. The firm focuses on software and IT-enabled businesses well-positioned for topline and bottom-line growth. At the core of Accel-KKR's investment strategy is a commitment to developing strong partnerships with the management teams of its portfolio companies and a focus on building value through significant resources available through the Accel-KKR network. Accel-KKR focuses on middle-market companies and provides a broad range of capital solutions including buyout capital, minority-growth investments, and credit alternatives. Accel-KKR also invests across a wide range of transaction types including private company recapitalizations, divisional carve-outs and going-private transactions. Accel-KKR is headquartered in Menlo Park with additional offices in Atlanta and London. For more information, please visit www.accel-kkr.com.
Source: Wistia