Wisconsinite, Jill Gehr, Creates Hand Crafted Jewelry in Vibrant Colors From Photography Stills
Press Release
•
Jul 19, 2016
Wisconsite, Jill Gehr, from Jill Gehr Designs, adds three more designs to her Wearable Art Collections consisting of entirely unique, light weight, handmade creations using bold patterns and vibrant colors to capture the complexity of today's modern woman.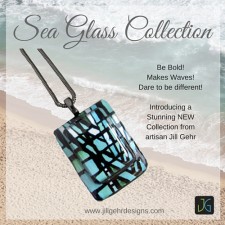 Saukville, Wisconsin, July 19, 2016 (Newswire.com) - Gehr is introducing several stunning and light weight jewelry pieces that feature Bold designs and Vibrant colors! Inspired by her surroundings of beauty and nature, Jill is always looking for the next WOW image. She's captured just that in her Newest Collections! Using photography and her editing skills, Wisconsinite Jill Gehr has taken what she's captured on film to new artistic heights in her beautifully hand crafted resin jewelry pieces.
Jill Gehr Designs' Wearable Art line will consist of three stunning NEW collections, and also an add on to one of her most popular collections, The Painted Art Collection.
"Most of my wearable art jewelry is so light weight, that you hardly know you're wearing it! No more tugging on the ears."

Jill Gehr, Artisan
The Sea Glass Collection: This collection was inspired by the blue hues in the water. When blue hues fill our vision, it indicates our willingness to see the possibilities in everything. The Passion Purple Collection: symbolizes passion, mystery, magic, and power, all qualities found in a woman. The Promise Collection: The color green's meaning is that of new growth, the "promise" that new hope brings, the eternal nature of love and ones ability to share that love for the common good. And lastly, adding onto the Painted Art Collection from Gehr's own personal original art piece, an abstract art piece that was inspired by new signs of life during one plush Spring morning, Gehr has added more one-of-a-kind earrings and necklaces for women to enjoy! The inspiration for Wearable Art was born from a need to express the secret beauty of what lies right in front of us.
"Each piece is hand-poured and can take up to two or three weeks to cure. Tiny bubbles, bumps and slight imperfections are part of the unique characteristics of the jewelry. "Most of my wearable art jewelry is so light weight, that you hardly know you're wearing it! No more tugging on the ears." This feature birthed our slogan - "Exquisite handmade pieces of art, unique as the woman who wears them. Be Vibrant, be Unforgettable, be You!"
Jill Gehr Designs' newest Wearable Art Collections launches July 20 at Www.Jillgehrdesigns.com.
The beauty of nature is ever-present. These carefully made pieces of art capture and transform nature's simple beauty into something of preciousness, wonder, and gentle reminders of everyday miracles in art.
Source: JIll Gehr Designs, LLC
Related Media