Wisconsin Small Business Defaults Fall in December
Press Release
-
updated: Feb 28, 2018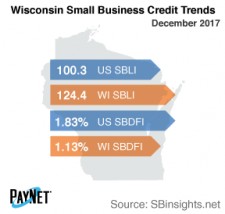 Madison, Wisconsin, February 28, 2018 (Newswire.com) - ​PayNet, the leading provider of credit ratings on small businesses, reports that in December 2017 overall defaults decreased within small businesses in Wisconsin, with default rates in 14 of the 18 major industries falling in the state.
The PayNet Small Business Default Index (SBDFI) for Wisconsin was second best nationally at only 1.13% after a 4 basis point reduction from November. Wisconsin's SBDFI was 70 basis points less than the national SBDFI level of 1.83%. The decrease in defaults over the past four months may signal improving financial health in the state. The national SBDFI has remained flat year-over-year, whereas Wisconsin's SBDFI declined 5 basis points.
Transportation and Warehousing (3.12%); Agriculture, Forestry, Fishing and Hunting (2.40%); and Accommodation and Food Services (1.75%) recorded the worst default rates of all industries in Wisconsin. Nationally, Transportation and Warehousing had a default rate of 4.00%, with a difference of --0.20% compared to the prior year, while Wisconsin had a variance of -1.11%.
Wisconsin ranked 3rd in the country with their PayNet Small Business Lending Index (SBLI) of 124.4, which progressed 0.5% from last month's state level and was 24.0% higher than the national SBLI level of 100.3 this month. Small business borrowers are considering increasing investment.
"Recent increased investment and improved financial health exhibited by Wisconsin's small businesses set the stage for expansion with low credit risk," asserts the president of PayNet, William Phelan.  
Source: PayNet
---
Categories: Economy, Small Business, Financial News
Tags: Banking, Credit History, Economy, Lending, Local News, PayNet, SBDFI, SBDI, SBLI, Small biz, Small Business, Wisconsin
---