Winter Wonderland for South Dublin at the Scientology Community Centre
Press Release
•
updated: Dec 15, 2017
A month of activities for South Dublin families at the new Scientology Community Centre on Firhouse Road benefiting local charities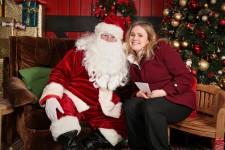 DUBLIN, December 15, 2017 (Newswire.com) - As Christmas approaches, there is a deep sense of community in the air. Streets and shops are abuzz with excitement and residences are lit up. And there's a particularly bright glow on Firhouse Road in Dublin 24, where stands the new Scientology Community Centre of Dublin.
"Having just opened this past October and being new to the neighborhood, we wanted to do something that would immediately benefit the community at large," said Diana Stahl, public affairs representative for the Church. "There are a lot of needs, and the most common request we get is for activities and events for families, so it has been our pleasure to kick off the Christmas season by hosting this Winter Wonderland, open to all."
The Community Centre's Winter Wonderland is scheduled to be open daily until 7 January 2018. Santa's reindeer will also be arriving soon on Sunday, 17 December, for everyone to see. Visitors are welcome to see Santa in his Grotto until Christmas Eve from 1-6 p.m. on Saturdays and Sundays and 3-6 p.m. weekdays. They may also participate in face painting, creative craft making with Santa's elves and Christmas funfair rides.
More than 1,000 people have enjoyed Winter Wonderland since it opened Dec. 8.
"Thank you so much for this. We had a wonderful time," said one visitor to Winter Wonderland. "It's Christmas, and it's part of our culture and children have to experience this."
"My children and grandchildren arrived," said a neighbor, "and my grandchildren said 'Grandpa, you are the luckiest person in the world. You have a Winter Wonderland in your backyard! We want to come here the whole month.' Am I not the luckiest guy?"
One child said, "My mummy said if I can't write I can't tell Santa what I want for Christmas, but I saw him and I told him what I wanted myself."
"I have never seen my child like this before, never ever," said a visitor. "When I came in I felt the festive spirit around this lovely place. And my son, I've never seen him like this. He is smiling in the pictures with Santa. He was never smiling before."
Admission to Winter Wonderland is free of charge, but in the spirit of Christmas, visitors are invited to make a donation to local charities in support of the homeless.
The Church of Scientology and Community Centre in Firhouse was established in 2017 as a hub for local activities and events, in keeping with Scientology founder L. Ron Hubbard's intention that all Scientology organisations are to serve as a home for the entire community and a meeting ground for cooperative efforts. Working side by side with all denominations and other groups on civic and humanitarian initiatives to strengthen the community, the Church and Community Centre facilities — 1,000-seat auditorium, meeting rooms, café and football pitch — are available to community groups and charitable organizations who share the goal of a peaceful and cooperative society. In 1956, L. Ron Hubbard lived in Dublin with offices in Merrion Square where he launched humanitarian initiatives which continue to flourish throughout the world today. "If the weather is cold, the Irish heart is warm. The country and the people could not be improved upon," he wrote.
Source: ScientologyNews.org
Related Media