Winners From International Student Startup Competition Nab $10,000 in Prize Money
Press Release
•
updated: Jul 7, 2017
Student focussed Program -"TiE Young Entrepreneurs" Encourages Innovation, Design thinking and Entrepreneurship amongst today's youth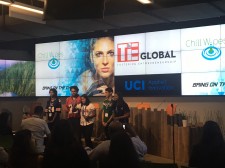 Santa Clara, CA, July 7, 2017 (Newswire.com) - ​​Team Atlanta froze the competition with their presentation on "Chill Wipes", their all-natural wipes product that helps people beat the heat at Sports games. Pollution fumes can be a thing of the past, with "AeroCleanse", the second prize winner from Team Hubli (city near Bangalore, an education hub of India), where their innovation was an external air filter attached to cars and trucks to cut air pollution in developing countries. "Carry on", the 3rd prize winner from New Delhi, makes life easier for frequent travelers, by providing them with a ready packed suitcase with clothes and travel items at their hotel, so travelers don't need to fret about packing and hauling their bags from place to place.
The award-winning ideas developed by students involved a complete product prototype, customized allergy detection services, live Apps, and winning real contracts with major clients. Student teams came from TiE Chapters all over the world : Atlanta, Boston, Carolinas, Dallas, Detroit, Washington DC, Irvine, Oregon, San Diego, Seattle, Silicon Valley, Ahmedabad, Delhi, Hubli, Hyderabad, Kanpur, Kerala, Vancouver (Canada) and Melbourne (Australia). The winning teams won cash prizes totaling, US $10,000.
"Congrats to all for a great event. It was an honor to see such great, bright young minds!"

David Ochi, Executive Director of the UCI Entrepreneurship Centre
The 2017 TYE Global Final Competition, organized by the TiE South Coast Chapter was held on June 23, 24, 2017 in Irvine, California. The University of California, Irvine supported the youth Competition by hosting the event at their vibrant Entrepreneurship center - UCI Cove at the Applied Innovation Center. Keynote speakers Ken Venner, CIO of SpaceX and Congresswomen Mimi Walters presented the Awards and offered encouragement and great insights to the young achievers.
The Winners of the 2017 International TYE Final Competition were :-
TOP PRIZE WINNERS
· First Prize : Chill Wipes, Team Atlanta ($4000)
· Second Prize : AeroCleanse, Team Hubli ($2000)
· Third Place : CarryOn, Team Delhi ($1000)
FOCUS AREA WINNERS
($500 for each award)
· Best Elevator Pitch : Chill Wipes, Team Atlanta·
· Best Innovation / Maker's Faire : Nix-it, Team DC
· Best Execution : Juicerr, Team Hyderabad
· Best Customer Validation: Tasteback, Team Oregon
· Best Lean Canvas : Epiphany Designs, Team Vancouver
· Best Teamwork : Second Chance, Team Boston
TYE is a program addresses the need of bringing entrepreneurship, innovation and design thinking concepts to young adults. During the year-long TYE program, students go through workshops focused on different aspects of entrepreneurship and create products/companies around their ideas. Students also get mentored by coaches and startup founders from the local entrepreneurial community. As a result of the TYE program, many students also receive summer internships with successful startups in their local community,
TYE is a unique program that takes place in the TiE ecosystem, which brings together seasoned entrepreneurs and professionals (who also happen to be parents and cheerleaders at the events), distinguished professors and speakers (who also happen to be great coaches and volunteers), TYE teenage student alumni – who share their passion of educating youth with life skills and innovative spirit.
About the TYE Global Program
The TiE Young Entrepreneurs (TYE) Program is an initiative that seeks to inspire, challenge and empower students to become the next generation of entrepreneurs and business leaders. Teenage youth (grades 9-12) are taught business basics and the essentials of entrepreneurship. Through the TYE program, students develop self-confidence, presentation skills, leadership, and creativity. #TYEGlobals2017
About TiE Global
TiE Global is a non-profit organization dedicated to fostering entrepreneurship globally through mentoring, networking and education. TiE has 13,000 members in 60 Chapters in 18 countries around the world. Website: www.tie.org
Video recordings of the Award Ceremony and Elevator Pitches
1. TYE Global Finals Awards Ceremony
https://www.facebook.com/mohini.suchanti/videos/10158836043390332/
2. Elevator Pitches
https://www.facebook.com/mohini.suchanti/videos/10158835940250332/
Source: TiE Global
Related Media