Winmo Scores Deep Digital Insights From Adbeat
Sales intelligence tool Winmo brings deep display insights from Adbeat into its advertiser-agency database, allowing sellers to win more business with ease.
Press Release
-
updated: Dec 10, 2018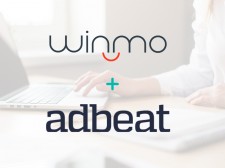 ATLANTA, December 10, 2018 (Newswire.com) - Winmo has partnered with ad measurement leader Adbeat to give users of its sales intelligence tool the digital buying insights they need to close more deals with top advertisers.
A newly launched integration brings select data from Adbeat, which crawls millions of sites to analyze over 8 million ads every day - directly into Winmo's award-winning sales platform, breaking down digital ad budgets alongside the brand and agency decision-makers who spend them.
"The digital landscape has become increasingly complex, and prospecting in this arena requires more and more advanced knowledge of a prospect's activity to craft a compelling pitch and to help identify the best opportunities," said Dave Thomson, Chief Revenue Officer of Winmo's parent company, List Partners. "Adbeat's unparalleled view of the landscape will provide a quick study on digital ad behavior, and we're thrilled to provide this intelligence in the same place our clients find contacts, spend, and brand-agency relationships."
The new integration gives Winmo customers access to a selection of expertly sourced data from Adbeat, including:
Top Creative: An overview of creative across standard, native, video and landing pages
Advertiser Overview: Number of ads running by days of the month, breakdown across HTML, image, and text, and percentage of ads placed direct vs. programmatic vs. native
Publisher Sites: Latest publishers and top 10 publisher site destinations ads have appeared on over the past 30 days
"Adbeat's core mission is to empower both buyers and sellers of digital advertising with actionable competitive insights to help discover new business and close more sales," said Mike Colella, Founder & CEO of Adbeat.  "With the integration of Adbeat's industry-leading ad intelligence data into Winmo's already robust sales intelligence platform, Winmo users will gain a real-time picture of the digital advertising landscape helping them to identify and capitalize on even more opportunities."
About Winmo:
Business development teams use Winmo to reach the right prospects at the right accounts at the right time. Its up-to-date advertiser and agency profiles track decision-makers who control over $100 Billion in annual ad expenditures. In addition to being the first place that sellers turn for advertiser-agency relationships and contact information, Winmo predicts opportunities on the horizon, tracking subtle shifts to keep agencies, publishers and adtech firms ahead of their competition. With verified sales intelligence, real-time change alerts and forecasted opportunities at their fingertips, Winmo users can operate more strategically, and engage prospects at the earliest stage of opportunity. Learn more at winmo.com.
About Adbeat:
Adbeat is an advertising intelligence platform that allows brands, advertisers, agencies, ad tech providers, and website publishers to track and analyze digital advertising. Adbeat provides market-leading insights into the entire display and native advertising ecosystem with unparalleled coverage of over 1M advertisers, 100 ad networks, and 100M ad creatives across 26 countries. Ad buyers use Adbeat to optimize and expand their advertising strategy; ad sellers prospect data-rich reports for new revenue-boosting opportunities. Adbeat is the indispensable intelligence tool that ad buyers and sellers alike trust to gain a competitive edge. Learn more at adbeat.com.
Source: Winmo
Share:
---
Categories: Advertising
Tags: ad measurement, ad sales, digital advertising
---