Win $10,000 Worth of Prizes With PocketLIVE
PocketSocial Technologies Inc., a Vancouver-based mobile technology company, has launched PocketLIVE ​-​ an innovative new platform for social live streaming.
Press Release
-
updated: Jun 19, 2017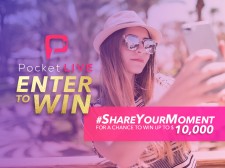 Vancouver, Canada, June 13, 2017 (Newswire.com) - #ShareYourMoment on PocketLIVE and Win $10,000 Worth of Prizes! (CONTEST)
PocketLIVE brings together the freedom of live streaming with fun, social elements that make it easier to connect and make friends online. Combined with a unique system that lets streamers earn money via virtual gifts (that can be cashed out for real money), PocketLIVE is building a supportive, open community where people can freely share what they love with the world, meet new people, and earn money while they do it.
In the lead up to their appearance at VidCon (the world's largest online video convention) later this month, PocketLIVE is launching new in-app features for iOS and Android that make live streaming more fun than ever. Features like facial recognition filters to transform you into about a zillion different crazy characters (think Snapchat), and in-app sharing tools that let you easily capture and share your favorite live moments with the world.
PocketLIVE wants everyone to see how fun, easy, and rewarding live streaming can be, so they're giving away $10,000 in prizes to convince you to give it a shot. Whip out your smartphone, download the app, and enter the contest, and you might just walk away with a serious haul – or at the very least a bunch of new friends (and isn't that the greatest prize of all?). For more information, visit http://www.pocketlive.tv/ 
For media and press inquiries, contact:
Ana Badila (Business Development  Associate, PocketSocial Technologies Inc.) (778) 379 9137 | anamaria@pocketlive.tv 
Source: Pocket Social Technologies Inc.
---
Categories: Internet and Streaming Media, Business Technology, Broadcasting, Mobile and Smart Phones, Internet
Tags: broadcast live, broadcasting, cam chat, live performance, live streaming, make friends, video chat, video live streaming, watch performance
---